Tories outspent Labour by £14.3m in election year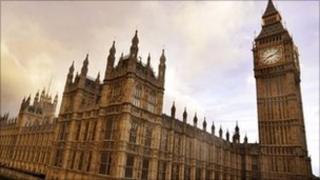 The Conservatives outspent Labour by nearly £15m in 2010, according to the Electoral Commission.
In the period, which includes the general election, the Conservatives spent £49.2m - some £6m more than they collected in income.
Labour spent £34.9m, including £1.05m from the Co-operative Party, an affiliated organisation.
The Liberal Democrats spent just under £10m, with the SNP on £2.2m and Plaid Cymru on £932,708
The commission said it was considering whether to impose sanctions on the BNP after it failed to submit its accounts.
The party - which is already facing financial difficulties - could be fined up to £20,000 for late submission under new powers handed to the commission to prevent abuses.
The BNP has been given 28 days to file its 2010 accounts or provide a reasonable explanation for why they are late. The party was not available for comment.
The Christian Party also failed to submit its accounts by the deadline and faces similar sanctions.
Trade unions
Electoral Commission chairman Peter Wardle said: "This is not acceptable. We have commenced formal case reviews into the circumstances.
"If we are satisfied that the rules have been broken and the parties concerned do not have a reasonable excuse, we will use our new powers to impose sanctions in accordance with our published enforcement policy, to ensure future compliance with the law."
Both parties could also be issued with a compliance notice, demanding that they hand over all financial documentation and appoint an auditor, at their own expense, to examine them.
The BNP was criticised last year by the electoral watchdog for failing to keep a proper record of who was donating money to it - but it could not take any action at that stage as it lacked sufficient powers.
Twelve parties, with expenditure of more than £250,000 in 2010, have submitted their accounts to the Electoral Commission.
The Labour Party has seen donations from wealthy individuals all but dry up since Tony Blair stood down as its leader and is now mostly reliant on support from the trade unions.
Figures released in December showed that the Conservatives had spent twice as much as Labour on campaigning at last year's general election.
The Conservatives spent £16.6m, less than their £17.8m outlay in 2005. Labour's expenditure more than halved from £17.9m in 2005 to £8m.