Whitehall spending 'cut by £3.75bn'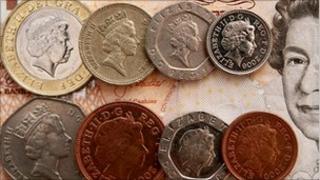 The government says it saved £3.75bn in 10 months by cutting jobs and projects, and spending less.
Cabinet Office Minister Francis Maude described the savings, confirmed by an independent audit, as "staggering".
Rent, advertising, consultants and 17,000 civil service posts were cut between May 2010 and March 2011 as part of measures to cut the UK deficit.
TUC general secretary Brendan Barber said savings were being achieved by making "deep cuts in valued services".
The Cabinet office said the savings included:
£870m from cutting consultancy spending
Nearly £500m from reducing spend on temporary agency staff
£400m from cutting marketing spending
£360m from centralising spend on common goods and services
£800m from renegotiating deals with some of the largest suppliers to government, equivalent to 6% of a full year of spend with those suppliers
£150m from 2010-11 budgets for government's major projects, by halting or curtailing spending
£300m by "applying greater scrutiny" to Information and Communication Technology (ICT) expenditure
£90m reduction on property expenses by "exerting better control" over lease renewals
the equivalent of £300m saved on 2010-2011 salary costs by reducing the size of the civil service by more than 17,000 posts
'Unjustifiable costs'
Mr Maude said the £3.75bn was "just scratching the surface of what we have planned for the coming months and years".
"To put £3.75bn into context, it's equivalent to the salaries of 200,000 junior nurses, or 150,000 secondary school teachers, it could pay for several Whitehall departments, and it's about the same as the revenue derived from one penny of the basic rate of income tax.
"We promised to drive out inefficiency and unjustifiable costs in central government. It is these savings, which have been achieved in just 10 months, that have allowed departments to protect essential front line services and jobs."
He warned of further cuts as the government aims to lower the deficit.
"We will continue to seek out and eradicate waste in government, whilst also delivering longer-term programmes of reform to ensure sustainable change and room for growth across the public sector."
Officials now have to get Mr Maude's approval on a range of spending decisions, including any marketing proposals costing more than £20,000 and ICT projects costing more than £1m.
On the reduction of consultants, Mr Maude said civil servants would welcome the move.
"Civil servants were often frustrated when consultants were used, it was very dispiriting for them."
The government announced in late June that it was to close its Central Office of Information - responsible for the bulk of the government's advertising spend of more than £500m - with the loss of up to 400 jobs.
Responding to the government's announcement, Mr Barber said: "Genuine savings such as getting a better deal from suppliers are always welcome, but the scale and speed of the spending cuts means that they will only be achieved by deep cuts in valued services - and they are now starting to bite.
"It takes a particular mindset to call the closure of a much loved local library an efficiency saving."
Labour has also criticised the speed and scale of the government's spending cuts.