Hague demands action on Syria but rules out force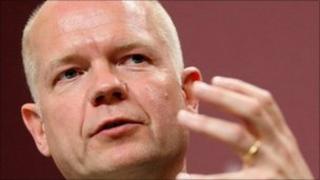 Ministers say they will continue to call for more international pressure to be put on the Syrian regime after ruling out any military intervention.
William Hague said the use of force, even with United Nations backing, was "not a remote possibility".
But the foreign secretary admitted it was "very frustrating" that a UN resolution condemning the violence had not yet been achieved.
Rights groups say at least 130 people have been killed since Sunday.
Most of those have died in the city of Hama which has been largely controlled by opponents of President Bashar al-Assad since June.
Tanks and troops entered the city on Sunday and, according to witnesses, opened fire on protesters.
'Limited levers'
The European Union expanded its sanctions against Syria on Monday and the UN Security Council also met behind closed doors to discuss the situation.
Mr Hague told the BBC he wanted to see a resolution condemning the violence, but he admitted that would be "quite difficult" to achieve.
"There are nations on the Security Council opposed to any resolution - or they have certainly been in recent weeks - so we will revisit this in the coming hours and days," he said.
The foreign secretary said that in order to effectively ramp up the pressure on President Assad, Arab countries must be more outspoken in their condemnation of his actions.
He said there was no international - and particularly Arab - appetite for military intervention, as there had been with Libya.
"It is a very frustrating situation," he said. "The levers we have are very limiting, but we should be frank in admitting that and work with the ones we have."
Foreign Office Minister Alistair Burt said veto-wielding countries like Russia and China had so far stood in the way of any UN Security Council resolution, but there were signs that could be changing.
"The interesting thing over the last 24 hours is that the Russians have said that they now condemn much more roundly the actions of the Syrian regime," he told Channel 4 News.
"We have been talking to Russia for weeks to try to persuade them to see the situation differently, because they will have more leverage than Western countries over Syria.
"What we want to see is pressure exerted so the killing stops."
Violence resumed again in Hama on Monday and there are fears of a further escalation to coincide with the Muslim holy month of Ramadan.