Counting the cost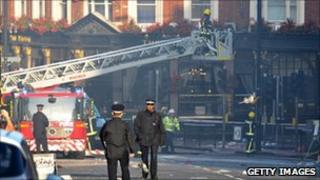 Ker-rching. Boris demands that police budgets be protected (a call he made in person to the prime minister in Downing Street last night).
Ker-rching.
The mayor calls for an enhanced National Citizen Service to give young people an alterrnative route to the thrills and discipline they get from gangs.
Ker-rching.
Ed Miliband calls for targeted help for the worst affected councils and businesses.
Ker-rching.
Build more prisons to lock up the worst offenders - will surely be the next cry from the right.
Ker-rching.
Stop cuts to youth services - the left will argue.
The morning after the riots before the government is facing mounting calls to raid the national cash till to pay for the clean up and stop it happening again.
There's just one problem though - the till's empty - and - as the Bank of England is about to tell us - it's not about to be re-filled any time soon.