Riots: Gang culture must be tackled - Miliband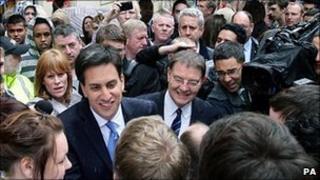 Ed Miliband has said gang culture and the "complex reasons" behind rioting and looting in England must be tackled.
The Labour leader, who visited Manchester where violence broke out on Tuesday, said order must be restored - then the reasons debated.
He has also called for the government to work with insurance companies to speed up the claims of those affected.
Political leaders have been visiting areas affected by violence and disorder over the past few days.
The government's crisis committee, Cobra, met again on Wednesday following four nights of violence, which began in London and spread to other English cities, including Manchester, Birmingham and Liverpool.
Mr Miliband visited Manchester on Wednesday, where he met volunteers helping clear up the city centre and people whose businesses were damaged by looters and vandals on Tuesday night. One woman told him the area had been "a complete war zone".
The Labour leader said public order had to be restored as a priority, but added: "Then we have got to look into the causes, why people are going around doing this. And I think there are a complex number of causes."
'Parental responsibility'
He said "simplistic solutions" should be avoided but said there was a need for responsibility "from the top to bottom of society, including parental responsibility".
"The reasons are to do with gang culture which we have seen in parts of our country and we must tackle. We must not have a situation where people think it is okay to go out and commit such acts as we have seen.
"I don't want my kids to grow up in a society where people think that it is okay.
"All of us have a responsibility to make sure we don't see these events repeated."
Mr Miliband also urged the government to organise a "rapid response" to help communities hit by violence "to get back on their feet as quickly as possible".
He said fast track procedures should be put in place with the insurance industry so people and businesses could start putting things right, and for extra support for the worst-affected councils.
In a statement after the Cobra meeting, the prime minister said parts of UK society were "sick" and blamed "mindless selfishness" for the actions of the past few days.
"It is a complete lack of responsibility in parts of our society, people allowed to feel the world owes them something, that their rights outweigh their responsibilities and their actions do not have consequences," Mr Cameron said.
He urged a "clearer code of standards and values that we expect people to live by and stronger penalties if they cross the line" alongside a "stronger sense of responsibility across our society in every town".