Prosecutors ask for more inquiries in Chris Huhne case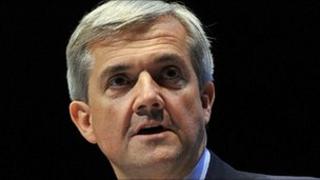 The Crown Prosecution Service has asked the police to make further inquiries into claims Chris Huhne tried to evade punishment for a speeding offence.
Essex Police have, since May, been investigating claims the energy secretary asked his estranged wife to take penalty points for him in 2003.
They have interviewed the Cabinet minister and Vicky Pryce, who is a leading economist.
Mr Huhne has denied the allegations, saying they are "simply incorrect".
'Normal procedure'
Essex Police delivered a file of evidence in the case - relating to an alleged offence while Mr Huhne was a member of the European Parliament - to prosecutors last month.
A Crown Prosecution Service spokesman said on Wednesday: "We have asked Essex Police to carry out further inquiries. Our review will continue when those inquiries have been completed."
Mr Huhne, MP for Eastleigh, is one of five Lib Dem ministers in the Cabinet. He became an MP in 2005 and narrowly lost out to Nick Clegg in a party leadership contest in 2007.
A spokesman for Essex Police confirmed they had been asked to carry out "some further work on particular points" in the case but gave no details as to what they were.
"The CPS will then further review the file in the case," he said. "This is normal procedure in a case such as this."