Somalia famine: UK insists aid is 'getting through'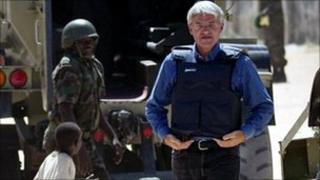 The UK will "not tolerate" corruption hindering efforts to tackle the famine in Somalia, a senior minister has said.
Andrew Mitchell said he had raised the issue with the Somali prime minister on a visit to the country on Wednesday.
He said members of the UK public donating money in recent weeks could be assured aid was getting through to those in need and would not be wasted.
The government has pledged an extra £25m towards food and medicine to help the 400,000 people at risk of dying.
Mr Mitchell was speaking after returning from Somalia's war-torn capital - the first visit by a British minister in 18 years.
He has warned of "a race against time" to tackle the severe famine in the country and said that without urgent action many thousands of children could starve to death.
Investigation
Mr Mitchell, who visited a refugee camp and feeding centre, said the children he saw in Mogadishu were the "lucky ones" as many others outside the capital were at even graver risk.
He said Somali prime minister Abdiweli Mohamed Ali had agreed to investigate claims of an incident in which food aid had been stolen from a camp in the capital.
"I made it clear to him that in Britain we will not tolerate any sort of corruption," he told the BBC.
"We insist this food, water and other health support gets through. We are absolutely intent of ensuring it does."
The UK public have donated £50m to help Somalia and other areas of the Horn of Africa affected by famine and drought through the co-ordinated Disasters Emergency Committee appeal.
'Trusted partners'
People had been "enormously generous", Mr Mitchell added, and the government was "very careful" to ensure the money was getting through to those affected.
He added: "We track very carefully the money that the British taxpayer is providing and the Disasters Emergency Committee work through very trusted partners.
"We know this [aid] is getting through."
A lack of health care, immunisation, clean water and sanitation are fuelling outbreaks of diseases including cholera and measles and urgent action is needed to provide food and combat disease.
The latest funds will take total UK government support for Somalia to £54m.
They will enable UNICEF - the UN organisation for children - to provide supplementary rations for up to 192,000 people and supplies to vaccinate 800,000 children against measles. It will also pay for polio vaccines, vitamin A, and deworming supplies to help prevent malaria.
Instability
Mr Mitchell said Somalia was inherently unstable and beset by a huge number of problems but the priority was saving the lives of as many people as possible.
He has urged more security for humanitarian relief workers operating in the country.
Somalia has been without an effective central government since 1991 and has been plagued by infighting between rival warlords. Continuing conflict has hampered aid efforts in the country, although Islamist rebels pulled out of Mogadishu two weeks ago.
The 57 member states of the Organisation of the Islamic Conference pledged $350m to help famine victims in Somalia, after a one-day OIC meeting in Istanbul.
The United Nations estimates 12 million people have been affected by drought in the Horn of Africa.