Foreign Office diplomats set up in Libyan capital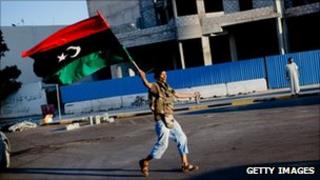 British diplomats have arrived in Tripoli as part of the government's plan to increase its presence in the Libyan capital.
The small Foreign Office team will prepare for the arrival of more diplomats, but no date has been set for reopening the British Embassy.
Tripoli was taken by rebels fighting Col Gaddafi's regime last week.
The UK and other countries have recognised the National Transitional Council as the sole authority in Libya.
Security developments
The Foreign Office said the team's arrival followed the prime minister's announcement on 22 August that a British diplomatic presence would be established in Tripoli "as soon as it is safe and practical to do so".
The arrival "reflects the recent military progress which means that some members of the NTC have already moved to Tripoli".
The embassy was shut at the end of February, with special representative John Jenkins being appointed and stationed in Benghazi.
Opening the embassy "will depend on political and security developments over the coming days," the Foreign Office added.
Col Gaddafi's whereabouts remain unknown since rebels swept into Tripoli last week, capturing his compound.
They already control most of Libya, after months of clashes since the first protests began.
Weapons destroyed
But National Transitional Council (NTC) head Mustafa Abdul Jalil said Nato and other allies must continue supporting rebels against the "tyrant".
The rebels have taken the small town of Nofilia on their way to the Gaddafi stronghold - and hometown - of Sirte.
British military action in Libya continues, with RAF aircraft dropping bombs and missiles near As Sidra, to the west of the port of Ras Lanuf, and destroying a rocket launcher, a heavy artillery piece in a gun emplacement and a pick-up truck armed with a heavy weapon.
A defence spokesman said surveillance aircraft were also providing support for RAF and other Nato combat patrols.
British forces are part of an international effort to enforce the United Nations Security Council Resolution 1973 and protect Libyan civilians at risk of attack.