No probe into Coulson severance pay, says watchdog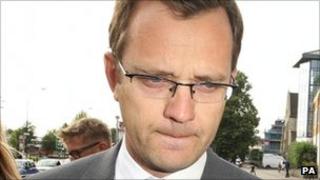 No investigation will be launched into whether Andy Coulson broke electoral law by failing to declare payments he received from News International while working for the Conservative Party.
Mr Coulson is thought to have received thousands of pounds in severance pay from his ex-employer while working as David Cameron's communications chief.
Labour's Tom Watson asked the Electoral Commission to investigate if this amounted to a "political donation".
It has ruled out any "further action".
'Re-bailed'
Meanwhile, a 71-year-old man, understood to be ex-News of the World managing editor Stuart Kuttner, was released on bail on Tuesday evening as part of the phone-hacking probe.
"The man was arrested on 2 August and bailed to a date in August, and he has now been bailed to a date in September," a Met police spokesman said.
He was originally held on suspicion of conspiring to intercept communications and corruption as part of Operation Weeting, the Met's investigation into phone hacking.