Victims' panel may take evidence from rioters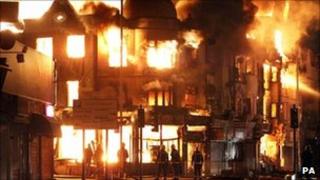 A panel set up to hear from communities affected by rioting may take evidence from those who carried out the violence, its chairman has said.
Darra Singh, currently JobCentre Plus chief executive, told the BBC he had "not ruled out" speaking to offenders about their motivation.
The four-strong panel will deliver its early findings by November.
Deputy Prime Minister Nick Clegg said it must ask "difficult, searching questions" about what happened.
Rioting erupted in Tottenham on 6 August following the shooting dead of a local man, Mark Duggan, by police.
Unrest then spread over subsequent nights to 22 out of London's 33 boroughs, from Ealing in the west and Croydon in the south, and to other English cities like Birmingham and Manchester.
'Resilient communities'
The independent communities and victims panel will consider why riots broke out in certain areas, what motivated those who took part, and how key public services, including the police, worked to deal with them.
It will also consider what drove people to stand up to rioters in their area or to clean up after the events had taken place - and how communities can be made "more socially and economically resilient" in order to prevent future problems.
Mr Singh - a former chief executive of Ealing and Luton councils - will step down from his role at JobCentre Plus at the end of September to concentrate on leading the four-strong body.
He said he wanted it to give a voice to residents, business owners, police and probation officers, and others affected by the riots, many of whom he said would have a view about their causes.
Asked whether he would take evidence from those convicted of rioting or looting, he told the BBC: "That is an issue that we will be looking at fairly quickly.
"What we will do is structure our approach so that everyone who wants to give us a view can do."
He added later: "I haven't ruled anything in or out.
"It's an interesting idea. It's something I will discuss will my fellow panel members."
Mr Singh will be joined on the panel by Simon Marcus, a youth leader in Tottenham, who was also the Conservative candidate in Barking, east London, in 2010.
Heather Rabbatts and Maeve Sherlock will complete the panel.
Ms Rabbatts, a barrister, has served as chief executive of Merton and Lambeth councils in London, and is also a former governor of the BBC.
Ms Sherlock is a life peer who has served as head of the National Council for One Parent Families and the Refugee Council.
'No simplistic solutions'
During a visit to Tottenham on Wednesday, Deputy Prime Minister Nick Clegg said the panel must not rely on "instant wisdom or instant judgement" about why the riots took place and should look to the deeper causes.
"It's really, really important that we don't forget about the plight of these victims," he said.
"It's going to take a long time for them to find their feet again. That's why I've announced this panel - to listen to the victims, listen to the communities, learn the right lessons - so this never, ever happens again."
The panel will deliver its final report in March 2012 to Mr Clegg, Prime Minister David Cameron and Labour leader Ed Miliband.
Mr Miliband, who led calls for an inquiry into the riots and promised to hold his own if the government failed to do so, said: "The temptation for politicians is to reach for simplistic solutions to the issues we face as a society.
"That would be a dereliction of duty to the vast majority of law-abiding people in those communities. After going out and understanding the point of view of those on the ground, the task of this commission is to make recommendations which can help tackle the complex causes of what we saw."