Labour invites public to join policy workshops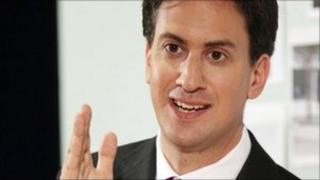 Members of the public are being invited to join policy workshops with the Labour front bench during the party's upcoming conference.
The open day in Liverpool will also give people the chance to quiz Labour leader Ed Miliband.
There will also be a talent contest for 16-23-year-olds with skills in music, acting or film-making, or ideas for a new business or invention.
Winners will get a work placement in the industry of their choice.
The open day is part of Mr Miliband's "Refounding Labour" initiative designed to revive the party from the grassroots up after the 2010 general election defeat.
According to reports, the plan will include requiring Labour MPs to sign contracts committing them to more constituency work in order to reconnect with voters.
Stronger communities
The open day - which Labour says is the first of its kind to be held by any UK party - will take place on Wednesday 28 September, and feature three policy workshops, each hosted by a shadow minister.
They will be on youth opportunity, the cost of living and economic growth, and building stronger communities. The workshops will be followed by a Q&A with Mr Miliband.
Labour says the talent showcase element of the day is designed to "celebrate the potential of younger generations".
The party is encouraging young community workers, budding artists, and would-be industry or science leaders to submit entries.
Two from each category will then be chosen to present to a panel of judges and a live audience, and the winners will get a paid work placement.