Blair 'found Brown as painful as dental work' - Darling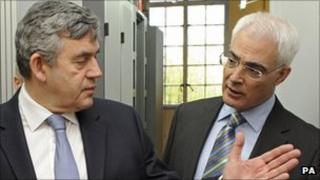 Tony Blair likened working with Gordon Brown to "having dental treatment with no anaesthetic", according to leaked extracts of a book by former chancellor Alistair Darling.
The comment, reported by the Guardian, is the latest in a series leaked from Mr Darling's forthcoming memoir.
In others extracts, published by the Labour Uncut blog, he describes Mr Brown's moods as "brutal and volcanic".
Publishers Atlantic Books have refused to comment on the leaked extracts.
The book, Back from the Brink: 1,000 Days at Number 11, is expected to be serialised in a Sunday newspaper, starting this weekend, ahead of its official publication next week.
Atlantic Books said the sections released so far "do not fully and fairly represent the author's views as expressed in the book".
Mr Darling has also not commented on the leaks.
'Truth to power'
He was chancellor under Gordon Brown during the 2008 financial crisis and previously held a number of other ministerial positions during Mr Blair's time as prime minister.
According to the Guardian, Mr Darling will claim in the book that Mr Blair found Mr Brown so difficult to work with that he told him "dealing with GB is like having dental treatment with no anaesthetic".
Describing an argument with Mr Brown about the need for spending cuts, Mr Darling writes: "Speaking truth to power never came into it."
On Thursday, Ed Balls - who was a close of ally of Gordon Brown - admitted to the BBC that he was aware of a plan in 2009 to make him chancellor instead of Mr Darling.
Mr Balls, now shadow chancellor, said he told colleagues "inside government" at the time that this was the "wrong plan".
Mr Darling says in his book that he too knew of the plot but refused to accept another cabinet post.