MPs seek greater say over public appointments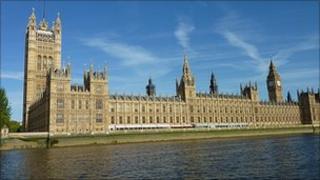 MPs are calling for Parliament to be given more say over appointments to key public roles, including the power to jointly select some office holders.
Since 2008, MPs have been able to question preferred candidates for certain roles about their suitability and qualifications in public hearings.
But MPs want to go a step further and make about 10 positions subject to ratification by a Commons vote.
The liaison committee of senior MPs said this would aid public confidence.
Parliament has been wielding increasing influence over executive appointments to public bodies in recent years - with more than 30 "pre-appointment" hearings held in the past four years.
Justice Secretary Ken Clarke recently re-opened the application process for a new Chief Inspector of Probation after the Justice Select Committee expressed concerns about the range of candidates.
'Undertakings sought'
And the preferred candidate for chair of the UK Statistics Authority withdrew her application after the Public Administration Select Committee raised questions about her independence.
The Treasury Select Committee has also been given an effective veto over appointments to the Office for Budget Responsibility, including its director.
But the liaison committee, comprising the chairs of all Commons select committees, wants MPs to have a greater role in choosing holders of specific posts which either uphold standards in public life, defend the rights of citizens or exercise direct control over the activities of ministers.
It says the following appointments should be jointly approved by government and Parliament, with office holders only able to be dismissed before the end of their term with the approval of MPs.
Chair of the UK Statistics Authority
Information Commissioner
Chair of the House of Lords Appointments Commission
Chair of the Judicial Appointments Commission
First Civil Service Commissioner
Commissioner for Public Appointments
Chair of the Committee on Standards in Public Life
Chair of the Equality and Human Rights Commission
A second tier of appointments should be subject to "enhanced" scrutiny by MPs, it recommends.
In these instances, if a select committee was unhappy with a preferred candidate ministers would be obliged to demonstrate why they should be given the job.
"Scrutiny of major public appointments is essential if the public are to have confidence that those appointed are fully independent of the government," Sir Alan Beith, the Lib Dem MP who chairs the justice select committee, said.
"Pre-appointment hearings are now an established - and valued - part of select committees' role, but there is still some uncertainty about exactly what should happen if a committee is not happy about a proposed appointment.
"For certain key posts we want an undertaking from government that they would not go ahead with an appointment in the face of an adverse report from a committee."