Lib Dem chief executive Chris Fox resigns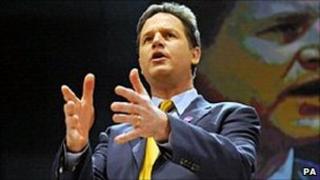 The chief executive of the Liberal Democrats has announced he will stand down in November, after just over two years in the job.
Chris Fox said he was not the man to run the party's organisation in the lead-up to the next general election.
He called the decision to go the "most difficult of his life", while party leader Nick Clegg said Mr Fox would be "very sorely missed".
The Lib Dems recently moved their London headquarters.
This follows the loss of "Short money" - the extra state funding for research which parties receive when they are not part of the government - since the formation of the coalition.
The Lib Dems have had to shed staff as a result.
'Right time'
Mr Fox's announcement comes just two weeks before the Lib Dem annual conference, in Birmingham.
He said: "Stepping down from this role is one of the most difficult decisions of my life, but on a personal level I feel that now is the right time to move on.
"There is no good time for changes like this, but one thing is clear: We need whoever is in place as chief executive at the beginning of 2012 to be in the job until 2015 at least - through to the next general election and beyond."
Mr Clegg, who is also deputy prime minister, said Mr Fox, a long-serving Lib Dem activist, would be "sorely missed at every level of the party".
He added: "Chris has led the party machine through a general election, our transition to government and through some major organisational and financial challenges.
"His achievements cannot be overstated and I am personally very grateful to him for his fantastic service to the party."
The Lib Dems moved from their headquarters in Cowley Street, Westminster - which cost £225,000 a year - to less expensive premises in nearby Great George Street, last month.
A spokesman denied that financial concerns were the reason, adding that "more modern" offices were needed.