Conservative MP David Amess attacks BBC pay and 'bias'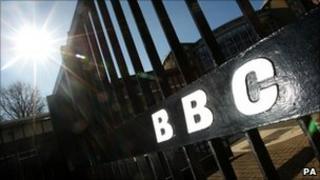 A veteran Conservative MP has accused the BBC of having a "fervently anti-cuts" agenda, while paying "absolutely ludicrous" salaries to its executives.
David Amess told the Commons the end of the digital switchover in 2012 would be a good time to rethink BBC funding.
He also criticised "one or two female newsreaders" for smiling when they read serious news items.
Culture minister Ed Vaizey said the BBC was a fine broadcaster, but action was being taken over concerns about bias.
The government announced in October 2010 that the BBC licence fee would be frozen for six years.
'Consistent policy'
Mr Amess, MP for Southend West, accused the BBC of bias on several issues, including the reporting of events in Israel, which he claimed was covered in a "highly disproportionate manner", showing the state in a "poor light".
"More poignantly, it is fervently anti-cuts and ensures that this message pervades every aspect of BBC programming," he said.
"Since the general election the BBC has embarked upon a consistent policy of criticising government actions, which is rather amusing given that the director general declared 'bias at the BBC...' - so he must have recognised there was bias - 'bias at the BBC was a thing of the past'."
He also criticised the pay packets of senior staff: "I just think that salaries that the management of the BBC are paid are absolutely ludicrous.
"The director general - £838,000. This is madness. Other directors' pay, as of March 2011: one gets £488,000, another one gets £517,000, another one £467,000, another one £452,000.
"Not to mention what the financial controller gets."
'Impartiality seminars'
Turning his attention to newsreaders, Mr Amess said: "I don't know whether we have brilliant presenters.
"I would just say that it annoys me when one or two female presenters, I don't know whether they've had too much botox or something, when they are presenting the news and it's a very serious subject, they are smiling, which I find slightly annoying."
In response, Mr Vaizey said the new BBC Trust chairman - and former Tory minister - Lord Patten was looking at concerns about bias.
The culture minister also said he understood that the corporation would in future have "annual impartiality reviews" and regular "impartiality seminars" to "re-educate staff".
But he added: "It's right and proper that we acknowledge, I think, that the BBC is one of the finest broadcasters not just in this country but in the world.
"It sets a quality bar which is why we have such high quality television and radio in this country."
The BBC declined to comment on the debate.