David Kelly inquest ruling to be challenged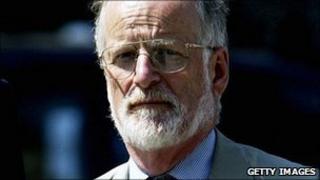 A group of doctors is seeking a judicial review of the decision not to hold an inquest into the death of government scientist Dr David Kelly.
The attorney general ruled this out in June, saying evidence that Dr Kelly killed himself was "overwhelming".
Dr Kelly was found dead in 2003 after he was exposed as the source of a BBC story about Iraq intelligence
The campaigners maintain the subsequent Hutton inquiry ruling that he committed suicide was "unsafe".
Dr Kelly's body was found in woods near his home in Oxfordshire after he was exposed as the source of a controversial BBC report casting doubt on the government's claim that Iraq had weapons of mass destruction capable of being fired within 45 minutes.
The report led to a fierce row between the BBC and the then Labour government.
An inquest was opened but was then suspended - when the Hutton Inquiry was set up to look into the circumstances of his death.
The 2004 report concluded Dr Kelly had killed himself by cutting an artery in his wrist but a group of doctors has since argued there was insufficient evidence to prove beyond reasonable doubt he killed himself and mounted a long-running campaign for the inquest to be re-opened.
In March, they handed a new dossier to Attorney General Dominic Grieve containing details about the absence of fingerprints on items found near his body.
On Thursday, they confirmed they had lodged papers to seek a judicial review of the decision not to do so.
Mr Grieve said in June he could not find any legal basis for referring the case to the High Court, which has the legal authority to order an inquest.
He said he had seen no evidence supporting allegations Dr Kelly was murdered or that his death was the result of a conspiracy or cover-up.
The Hutton inquiry had been "tantamount to an inquest", he concluded.