Essex council by-election: Conservatives hold jailed peer's seat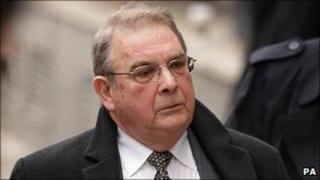 The Conservatives have held on to the Essex County Council seat held by the former leader Lord Hanningfield who was jailed for expenses fraud.
Ian Grundy took the Stock ward seat but with a reduced majority and the UK Independence Party came second, beating both Labour and the Liberal Democrats.
Council leader Peter Martin said the party aimed to develop quality services for the people of Essex.
"Lord Hanningfield is no longer a member after the court case," he said.
Lord Hanningfield, the former leader of the authority, was forced to resign from the council in July and was jailed for nine months for fiddling his parliamentary expenses.
He then failed to have the conviction quashed at appeal.
In Thursday's by-election turnout was 22.4% and the Conservative majority was 35% - a fall from 53% in 2009.
Conservatives took 1,820 (59%) of the votes, UKIP 736 (24%), Labour 273 (9%), Lib Dem 160 (5%), Green 80 (3%).