Chris Huhne warns Tories over axing 50p tax rate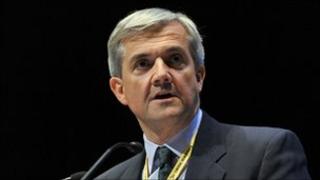 Energy Secretary Chris Huhne has warned of a potential Lib Dem rebellion if the 50p top rate of income tax is axed.
Writing in Prospect magazine, Mr Huhne said the Tories could be seen to be "helping their friends in the City".
And he warned Conservative coalition colleagues they would not get the measure through the Commons.
Work and Pensions Secretary Iain Duncan Smith earlier insisted the 50p rate on those earning more than £150,000 a year would be scrapped.
Chancellor George Osborne is coming under increasing pressure to get rid of the tax, which was introduced by Labour.
The chancellor has asked HM Revenue and Customs to look at how much has been raised by the 50p rate, but it will not be able to count this until this year's self-assessment tax returns are in after January next year.
'Cast-iron justification'
Last week an open letter from 20 economists claimed the 50p rate was damaging the recovery.
Speaking on the BBC's Andrew Marr show, Mr Duncan Smith said that Mr Osborne and Prime Minister David Cameron had "both made it clear [the 50p rate] was never forever".
And he said it was "just a matter when they decide that actually it has done whatever it has got to do in terms of getting the deficit down, that was always the position of the government".
But Mr Huhne, speaking ahead of next week's Lib Dem conference, at which the 50p rate is likely to be a hot topic, warned against cutting the tax without a clear economic justification.
"If the cut in the top rate of tax is just a way of helping the Conservatives' friends in the City to put their feet up, then forget it," the former City economist told Prospect.
And he warned that the measure would not be allowed to pass through parliament, adding: "They are simply not going to get the votes in the House of Commons."
He added: "I have no ideological attachment to a particular tax rate."
"But if we are to cut the top rate of tax from 50p there has to be a cast-iron economic justification. During tough times, we have to be all in this together."
Chief Secretary to the Treasury and Lib Dem MP Danny Alexander told Sky News that people on low incomes should benefit from any tax cuts, stressing that that was a priority in the coalition agreement, rather than axing the 50p tax rate.
"The wealthiest can afford to pay their fair share at a time of difficulty for the country and we need to make sure they continue to do so," said Mr Alexander.