David Cameron would be 'very good' spy, jokes Medvedev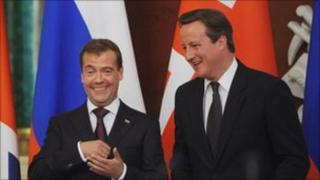 Prime Minister David Cameron would have made a "very good" KGB spy, Russian President Dmitri Medvedev has joked.
But Mr Medvedev said it would have prevented him entering Downing Street - taken as a reference to the spy-hunting skills of MI5.
The humorous exchange came after Mr Cameron recounted an apparent bid to recruit him as a Soviet spy.
Mr Cameron's one-day visit to Russia for talks is the first by a UK leader since 2005.
In a speech at Moscow State University, Mr Cameron said: "I first came to Russia as a student on my gap year between school and university in 1985.
"I took the Trans-Siberian Railway from Nakhodka to Moscow and went on to the Black Sea coast.
"There, two Russians - speaking perfect English - turned up on a beach mostly used by foreigners.
"They took me out to lunch and dinner and asked me about life in England and what I thought about politics.
"When I got back I told my tutor at university and he asked me whether it was an interview.
"If it was, it seems I didn't get the job!"
Asked about Mr Cameron's comments at a joint press conference later, Mr Medvedev said: "I'm pretty sure that David would have been a very good KGB agent.
"But in this case he would never have become prime minister of the UK."
According to press reports, Mr Cameron told MI5 about his encounter with the suspected spy when he was vetted for his first government job as an adviser to then Chancellor Norman Lamont in the early 1990s.