Rest of world must do more on famine, UK minister says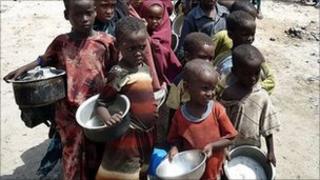 The rest of the world must follow the UK's example and give more aid to those facing starvation in the Horn of Africa, Andrew Mitchell has said.
The international development secretary told MPs that other countries must "reach deeper into their pockets".
The British public have so far donated £57m to the famine-hit region.
Conservative MP Amber Rudd told the House of Commons it was "more than the governments of France, Germany, Italy, Russia and Switzerland put together".
The UK government has contributed £124.3m so far to help with famine relief.
But the development secretary said 400,000 people, many of them children, were still at risk of dying from starvation and more help was urgently needed.
'Failures'
"Britain has set out clearly what needs to be done. People across all parts of our country, as well as the government, have given their money as well as their support," he said.
"You cannot put a price on a life, but you can put a price on saving one.
"It is time for other countries to recognise that fact and reach deeper into their pockets."
Several MPs said more must also be done to prevent famines occurring in the first place, arguing that war and conflict - rather than climactic factors - were often the cause.
Labour's Heidi Alexander said: "It is often that failure of rainfall that is cited on the news, but just as important if not more so, are the failures of governments both regionally and internationally."
And she added: "Our world is becoming ever more interconnected. The fears of some of my constituents about immigration will only be addressed in the long term if the developing world becomes a place where the local population wants to remain."
Also for Labour, shadow international development secretary Harriet Harman said: "What is needed is support for greater long-term investment in agriculture.
"What is needed is an end to the exploitation by the international land speculation. What is needed is to stop speculation on food commodities which causes prices to soar so hungry people can't afford them."
The United Nations says tens of thousands of people have died after what is said to be East Africa's worst drought for 60 years.
Somalia has been hit hardest - with 750,000 people said to be at risk of starvation in the next four months.
Problems there have been exacerbated by political instability and tens of thousands have fled to neighbouring Kenya and Ethiopia, themselves badly affected by the severe lack of rain.