Lib Dems not 'patsies' says David Laws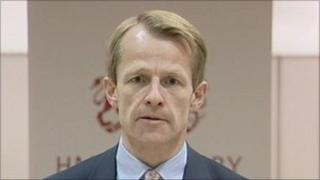 Former cabinet minister David Laws has defended the Liberal Democrats' position within the coalition, calling them "partners, not patsies".
The MP for Yeovil told the Sun: "We don't pretend to agree on every dot and comma."
But he added that the coalition was working "better than many previous single-party governments".
The comments come the day before the Liberal Democrats meet in Birmingham for their annual conference.
The former chief secretary to the Treasury acknowledged that the past year in coalition had been turbulent for his party, saying: "Losing the referendum on electoral reform was a big blow."
'Remarkably united'
He also spoke of how there remained a great challenge within the party to retain its individual identity without becoming simply "internal opponents" of the Conservatives.
Mr Laws stated that the solution to "Britain's biggest challenges" of economic recovery and the "broken society" would come from utilising the pools of talent that exist across party lines.
"The Lib Dems remain remarkably united," insisted Mr Laws.
He also said: "Lib Dem voters want to know that we are fighting for our priorities - that we are partners, not patsies."
Mr Laws resigned from the government last year, just 17 days after the formation of the cabinet, when it emerged he had wrongly claimed around £40,000 to pay the rent of his partner, lobbyist James Lundie.
It was later discovered by the Parliamentary Commissioner for Standards that this was one of six breaches of the rules, including expenses claims for telephone bills and construction work.
Mr Laws defended his actions by stating he had claimed the money to conceal his sexuality and preserve his privacy, which was accepted by the commissioner in June this year.
Mr Laws was a vital player during the six days of negotiations which took place after the election that led to the formation of the coalition government.
Since his expenses incident, Mr Laws has indicated his interest in returning to the cabinet. Prime Minister David Cameron has shown support for him and has signalled he is keen for his swift return.