Lib Dem conference: Labour thwarting 'hope of dialogue'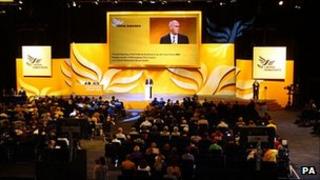 A senior Lib Dem has said the prospect of a "civilised dialogue" with Labour is being thwarted by their "tribal" attitude to coalition politics.
Norman Lamb told a fringe meeting the party should explore "common ground" with Labour on issues such as social care and climate change, while still working with the Tories in government.
But he said relations between his party and Labour were in a "bad place".
Ex-Labour minister Lord Adonis urged "collaboration" in some policy areas.
Mr Lamb, chief parliamentary and political adviser to Nick Clegg, said the Lib Dems had a responsibility "not to goad Labour" and to keep channels of communication open with them.
"We should explore, during this Parliament, common ground and we should recognise we have some shared values," he said.
'Betrayal'
House of Lords reform, long-term care for the elderly, climate change and aspects of health care were examples of where the two parties could work together, he argued, while he did not rule out talking to Labour after the next election about forming a coalition in the national interest.
But he suggested Labour needed to accept why the Lib Dems had struck a deal with the Conservatives and be more tolerant of cross-party co-operation in general if anything constructive was to occur.
"Relations between the two parties are in a bad place."
"There is a sort of claim of a betrayal of a progressive alliance between the two parties. I never experienced it when Labour was in government."
The campaign over changing the voting system earlier this year illustrated the antagonism between the two parties, he argued.
He believed many Labour MPs had opposed change, not out of principle, but merely because "the Lib Dems had suggested it".
Saying he deplored such "tribal" politics, he added: "There is a challenge for Labour in opposition to remain relevant and engage in sensible discussions about how we reform public services."
Lord Adonis said there was little prospect of major co-operation between the two parties in the current political climate, comparing it with the East and West talking to each other at the height of the Cold War.
But the-ex transport secretary, a former Lib Dem activist who defected to Labour in the early 1990s, said there were areas where the parties should work together in Parliament to improve policy.
As well as Lords reform and party funding, he said the parties should co-operate on reconfiguring current rules on media regulation and ownership to ensure "proper plurality" and ensure "another Rupert Murdoch did not emerge from the ashes" of the phone hacking scandal.
"You have that opportunity to make that a deal-breaker and you should seize that opportunity."
'Bunker mentality'
But two backbench MPs from different sides suggested a thaw between the two parties was unlikely in the short term.
Labour MP Gisela Stuart said the Lib Dems risked being "tainted and tarnished" by coalition decisions with which they were associated.
She advised the Lib Dems to "be more clear what you stand for rather than a generic 'we have stopped the Tories from doing things'."
Lib Dem John Leech, one of two MPs not to endorse the coalition after its formation, said his party had more in common with Labour than their coalition partners.
But he said Labour had "ruined any chance" for meaningful discussions or collaboration between the two parties by opposing everything the government put forward - which he said was a "ridiculous response".
"I think relations between Labour and the Lib Dems have deteriorated so far that there is a bunker mentality among colleagues who many not be as comfortable with the coalition as others."
Revealing he had been approached by seven Labour MPs about defecting to their party, he said there was less chance of this happening than him switching his allegiance from Manchester City to their sworn rivals Manchester United.