Lib Dem conference: Ashdown and co look on bright side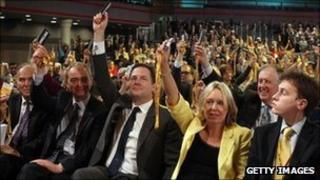 They've been the target of angry mobs, had their leader burned in effigy, lost hundreds of council seats and seen their poll ratings plummet. Is it, perhaps, time that the Liberal Democrats had a make over?
Hundreds of party activists jostled for space at a fringe event at the Lib Dem conference in Birmingham to hear exactly what some of the party's biggest names had to say on the matter.
Apparently there had been enough food for 300 people, but many were left hungry as closer to double that number streamed past into the hall at the International Convention Centre.
Since their last autumn conference, the Lib Dems have suffered their worst English local elections for 30 years, losing nine councils and 747 councillors.
But they were in good humour at a debate hosted by The Guardian on whether the party was in need of a "mid-term make over".
'Stand firm'
The Daily Mail has been the favourite newspaper to bash at the conference so far but the party has faced hostility from all parts of the political spectrum.
Party president Tim Farron joked about the "wonderful achievement on Saturday, which was [Guardian columnist] Polly Toynbee saying something nice about us".
Former party leader Lord Ashdown, who often reminds people that the Lib Dems' popularity was once so low under his leadership it was represented by an asterisk in the polls - urged the party faithful not to worry too much and to "stand firm".
"What's happening now in the opinion polls is pretty irrelevant," he said, conceding, for decency's sake, that it was pretty relevant to the hundreds of councillors who had lost their seats in May.
As long as the Lib Dems stayed true to themselves, while helping bring the country through an economic crisis, things would turn around.
"If we can do that this party has every chance of continuing to grow and taking a position we would never dream of at the moment."
And members lapped up his assessment of the party's future: "The sky is our oyster!"
While naysayers in the media concentrated on opinion polls and outdated election results, the peer preferred to point to council by-election results in the past three months.
"We have got more gains that the Tories and Labour put together!," he declared to cheers.
European argument
They loved him in the hall - as he poked fun at the press, admitted that he had been in favour of legalising cannabis and lambasted those who favoured loosening EU ties.
But it wasn't all back slapping. On Europe particularly - and the thorny issue of there being only seven women Lib Dem MPs, and no ethnic minority MPs - there was recognition they had made mistakes.
The Lib Dems had a communication problem, the panel acknowledged. They weren't getting across what it was they stood for, what they'd achieved in government - and they'd lost the argument with the British public on closer European integration.
It was important to "know what we stand for" and do better on communicating their message.
And let's not forget which party opposed war in Iraq and "stood up to Rupert Murdoch when no-one else did" said Lynne Featherstone, to loud applause.
Despite media hopes that the Lib Dems would be deflated "we are on good form here - [party leader] Nick's on cracking form".
The party had been in worse places in the past - it had bounced back then, and would do so again, Mr Farron said.
"You don't see panic here because, let's be honest, we have been here before and we have bought the T-shirt and we always come out the other side."
The crowd clapped - and it was left to the BBC's deputy political editor James Landale to raise the delicate question - wasn't it all a bit of wishful thinking that things could turn around for the party in the next few years?
He found himself on the receiving end of a chorus of disapproving murmurs.
Ms Featherstone summed up the desire for a more optimistic approach in the hall.
"James, you are kind of a miserable sod, really."