UK initiative to educate poor girls in Africa and Asia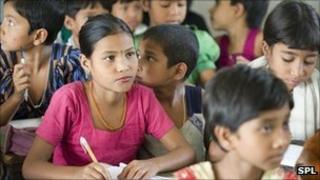 The UK is to offer £355m to help up to one million of the poorest girls in Africa and Asia get a school education.
The initiative was announced by the Deputy Prime Minister Nick Clegg at the Lib Dem party conference.
Mr Clegg made a passionate defence of the coalition's decision to raise spending on international aid, which has been questioned by some Tory MPs.
The Lib Dem leader said: "This is us putting our convictions into practice".
International aid is only one of two departmental budgets not being cut by the coalition government and both Mr Clegg and David Cameron have made the case for greater support in the face of criticism.
Funded from the existing aid budget, the Girls Education Challenge will aim to give 650,000 girls six years of primary education or, alternatively, up to a million girls three years at a junior secondary school.
It will be focused on some of the countries that the UK has identified as key aid recipients in future, such as South Sudan, Nigeria and Bangladesh.
NGOs, charities and businesses will compete for funding, with only the most original, cost-effective and results-oriented ideas on how to help marginalised girls receiving backing up to 2015.
"The action we are taking is ambitious and something of which Britain should be enormously proud," Mr Clegg said. "It will lift hundreds of thousands of girls out of poverty so they can fulfil their potential."