Lib Dem peers to seek further NHS bill changes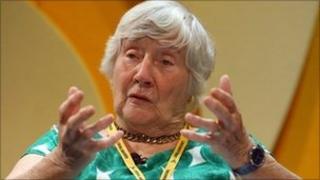 Lib Dem peer Baroness Williams has said she wants to see further concessions on the controversial NHS bill when it goes through the Lords.
Speaking at the Lib Dem conference, she said "major changes" had already been made but more movement was needed.
She wants to get rid of an "autonomy clause" and ensure the health secretary keeps responsibility for NHS provision.
Health minister Paul Burstow said changes could be made to "put beyond doubt" the party's NHS commitment.
The government's plans for the NHS in England involve giving GPs and other clinicians much more responsibility for spending the budget, while greater competition with the private sector will be encouraged.
'Good' changes
But in March, delegates at the party's spring conference backed a call to halt a "damaging and unjustified" shake-up of GP services in England.
The government later agreed to a two-month "pause" on the bill to listen to concerns and make improvements.
Baroness Williams said some "very good" changes had been made - but more work was needed.
A group of medical peers were taking an acute interest in the bill and had been holding detailed meetings about the legislation, she said.
The peer was concerned about an autonomy clause - which says the secretary of state cannot affect the watchdog Monitor or the commissioning board.
And she said the health secretary must retain "residual responsibility for securing the provision of a comprehensive health service to all the people of this country".
"I think if we can get those two as well, then we can live reasonably comfortably with the proposals that are before us."
'Committed'
Lib Dem Mr Burstow told the conference: "We haven't stopped listening, we are keen to carry on listening, we are keen to make changes if they are needed, to this bill to put beyond doubt that we as a party are committed to a comprehensive health service, free at the point of use, funded by general taxation and based on people's need and nothing else."
He said: "Fundamentally we need to make sure the secretary of state retains both a legal and a political accountability for securing a comprehensive health service."
Accountability should be not just retained, but strengthened, he said - and the secretary of state would have to set out both what he meant by a comprehensive health service and its priorities.
He said the House of Lords always revised and improved bills: "That's what it will do with the Health and Social Care Bill."
At the start of the conference activists failed in a bid to force a vote on controversial NHS changes.
Although they voted in favour of allowing an emergency motion to be debated by 235 votes to 183, they failed to get the two thirds majority needed for it to be considered.
A Department of Health spokesman said the bill aimed to ensure the future of the NHS.
He added: "The revised plans we set out in response to the independent NHS Future Forum made it clear that there is no change in the secretary of state's core duty.
"He will remain responsible for promoting a comprehensive health service - this is consistent with the wording of the original 1946 Act."