Twitter's own Lord Prescott - Lib Dem role model?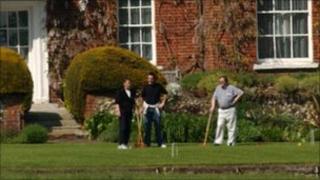 In his heyday, John Prescott liked nothing better than sinking his teeth into the Liberal Democrats, never missing a chance to pour scorn on the party from the government benches.
Now that the veteran Labour bruiser has retired from frontline politics (and found a new lease of life on Twitter), could he become their role model?
It sounds unlikely. But influential Lib Dem blogger Mark Pack believes the way Prescott is both "establishment" and "anti-establishment" at the same time contains lessons for his party, still learning how to handle power after decades of being a party of protest.
Many Lib Dems joined politics to be community champions against the establishment but that is rather more difficult when your party is in government, argued the former Lib Dem staffer and co-editor of Lib Dem Voice at a lunchtime fringe meeting.
'Getting stuck in'
Enter Lord Prescott, who stood down as a minister at the end of the Blair era, but quickly re-established himself as an all-purpose voice of protest.
The peer demonstrated a knack for "tapping into public anger" on issues like top executive pay, Mr Pack said, without undermining the Labour government he had just left.
"There's something I think we can learn from him, if you look at what he did at the tail-end years of the Labour government - a senior representative of the party in power but also a very successful popular agitator against things like the state of the financial system.
"If John Prescott can manage it, surely we should be able to manage it as well."
He said Lib Dems outside of government, rather than remaining bystanders, should be getting "stuck in" to campaigns to help Lib Dem ideals find their way into policies.
Simon Hughes asked whether Mark Pack's message was directed at him - as Lib Dem deputy leader - or Nick Clegg, as deputy prime minister. Prescott had, after all, held both equivalent roles in the Labour Party, at different times.
'Teather's rib-ticklers'
He could not resist a swipe at Prescott over his affair with his diary secretary, joking that all the former deputy PM left behind was a huge office with a desk and a cupboard: "From the history I read, he spent more time in the cupboard than behind the desk."
It got a laugh - which is more than can be said for Lib Dem minister Sarah Teather, whose attempt at a comedy routine in her conference speech has become a hit, for all the wrong reasons, on Twitter.
The speech gained a few indulgent chuckles from the party faithful but Tweeters have been less kind - gleefully swapping their "favourite" Sarah Teather rib-ticklers (sample: "I heard they've got Peter Hain booked for the next series [of Strictly Come Dancing]. He's doing the tango. Or has he been tangoed?").
And it was due to a miracle of Twitter that Lord Prescott himself was able to have the last word in the fringe meeting debate about whether the Lib Dems should take a leaf out of his campaigning book.
"Use Sarah Teather. It's the way she tells 'em!," the peer suggested - before adding he had more freedom as a backbencher to "go harder on the bankers".
The peer had been tipped off about Mr Pack's modest proposal via the social networking site - but when he was told that his suggestion had gone down well with party activists, the old bruiser's hackles rose.
"Did they wave their sandals?" tweeted the peer, just in case anyone thought he was going soft on his old enemies in yellow...