Labour to vote to 'beef up' Scottish leader role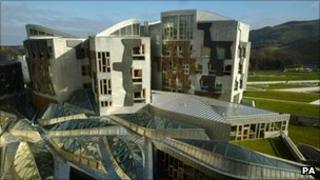 Labour is preparing to change its party rules so that it can have a new "beefed-up" leader in Scotland.
Shadow Scottish secretary Ann McKechin will tell the party's conference in Liverpool that Labour needs an official Scottish leader to revive the party.
Currently Iain Gray is informally known as Scottish Labour leader although his official title is Leader of Labour in the Scottish Parliament.
The UK party has to hold a vote to amend its rule book for this to happen.
The vote will clear the way for Scottish politicians to debate the full duties and responsibilities of the new leader at their own conference next month.
The post is set to be open to all Labour MSPs, MPs and MEPs. Previously, the post of leader of the parliamentary group at Holyrood was only open to members of the Scottish Parliament.
'Serious responses'
Speaking ahead of the Labour Party conference which started on Sunday, Ms McKechin said: "I am not surprised there is such a strong Scottish presence at the conference from MPs, MSPs, and party members."
She added: "Labour is going to show that it will be the party of change, from the economy to the welfare system and the opportunities for the next generation.
"We will also be doing some changing ourselves, renewing our party to create a new, beefed-up role of Scottish Labour Leader."
The proposal is part of a reform package which was unanimously agreed by its executive committee earlier this month.
The plans also include allowing Scottish Labour members to fully devolve themselves from the UK party on all Scottish matters.
The review was prompted by the party's election defeat in May where the SNP achieved an unprecedented overall majority in the Scottish Parliament, taking 69 of the 129 seats at Holyrood.
Labour went down from 46 seats to 37, losing some of its most senior figures.
The following day, Labour's Scottish leader Iain Gray announced he would stand down - but not until a new strategy was in place to revive the party.