Labour conference: Left frustrated by 'Red Ed'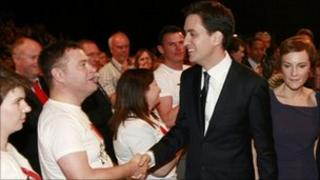 Ed Miliband's rejection of 30 years of unrestrained free market capitalism went down a storm with trade unionists watching his big speech.
But there is still real anger at his refusal to back public sector strikes over pensions.
And his decision to praise Margaret Thatcher's trade union reforms will have caused further dismay on the left, which was perhaps the point.
The tabloids may have dubbed him Red Ed, but Mr Miliband is still treated with suspicion by true keepers of the socialist faith. And you do not have to look far to find those in the bars and fringe meetings of the party conference.
On Monday night, leading left-wing MP John McDonnell earned a big cheer from activists when he said Margaret Thatcher "should have been extradited to South Yorkshire and tried by miners".
And there were just as many cheers when he added: "I actually wouldn't mind trying a few New Labour ministers as well for what they've done."
The meeting - in the somewhat incongruous surroundings of the swanky Crowne Plaza hotel in Liverpool - was called by the Labour Representation Committee.
Pressure
The LRC was set up in 1900 to fight for the rights of workers on the political stage, but was reformed in 2004 by those who felt those original ideals had been lost.
Members say they matter more than ever now in the face of public sector cuts and particularly the row over pensions.
They - and others like them in the union movement as a whole - are piling pressure on Ed Miliband to stand square and centre behind those workers who are set to strike later this year.
In the main conference hall itself a few hours before the LRC event - and with shadow cabinet frontbenchers just yards away - Unison boss Dave Prentis said in no uncertain terms that his members would "never forgive" the party if they didn't support the strikers.
But Ed Miliband has so far failed to do that.
He has taken the calculated risk that mainstream majority - the fabled "hard working families" so beloved of modern politicians - will be against the strikes, and he wants to be seen as on their side.
But many trade unionists and Labour members are asking what is the point of the Labour Party if not to stand shoulder to shoulder with workers involved in industrial action?
'British Spring'
Tony Benn, always a powerful draw on the Labour fringe, told the LRC meeting it was time to take action - on pensions but on many other injustices too - and it was "the Labour Party's job to represent that politically".
"We're about saying no to things that are unjust and unfair and it's when you say no loudly enough that the people at the top begin to listen," he said.
To much cheering - and a standing ovation - he said the country was about to witness a "British Spring".
"I'm not in favour of protests. The word protest says, 'We lost the battle and we don't like it.' That's not what we want. We want to make demands. Demands are things that can't be disregarded."
Activist and author Owen Jones told the rally there was "not much of the real world in the conference hall... not much of a recognition of what's actually going on in our communities".
He said that not only was there a fight to be had with the government, there was another to be had to get the Labour Party itself to represent the traditional socialist voice.
"If there's ever a time to work out what the Labour Party's for it's now," he said. "We lost the election because we lost those working-class voters that Labour was set up to represent.
"It's not about waging class war, it's about accepting class war is happening and deciding which side you're on."
'Solidarity'
Following Mr Miliband's speech, members of the PCS union said they didn't expect him to be "a cheerleader" for strikes, but they did expect him to recognise when a dispute was about fairness - or the lack of it - in government policy, and to stand up accordingly.
But John McDonnell said that wasn't good enough - for him, there had to be "absolute solidarity" - "no ifs no buts".
"We're in a life and death struggle with this government," he said. "We're looking at people using direct action on a scale we've never seen before and the role of the Labour Party is to be alongside them.
"When the next election comes people will be asking, 'Where were you when we were struggling?' It's not a matter of a few token gestures - I expect Ed Miliband and every member of the Labour Party to be on the picket lines. That's their responsibility.
"I say to the Labour Party, you can't stand on the sidelines or you will render yourselves irrelevant."
So far, until ballots are completed, the "day of action" on the 30 November cannot be official called a day of strikes.
Inevitably, though, that is what it will be and teachers will be front and centre.
In the words of one of their leaders, Christine Blowers, general secretary of the NUT, to the LRC meeting, she said she hoped it would be "the time for the sleeping giant of the trade union movement to wake up".
How Mr Miliband and his front bench team will handle that giant - tame it, provoke it or cosy up to it - remains to be seen.