Tory views: Human Rights Act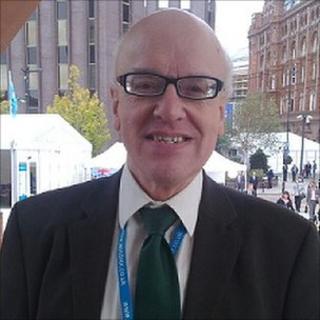 There could be trouble ahead.
The coalition partners - the Conservatives and Liberal Democrats - look increasingly unable to reconcile their views on the Human Rights Act.
The legislation, which enshrines the European Convention on Human Rights into law, should go, says David Cameron - to be replaced by a British Bill of Rights.
His Lib Dem deputy Nick Clegg says it must stay, arguing at his own party conference last month that the existing act is an invaluable safeguard for liberties.
In time-honoured Westminster tradition, the coalition has set up a commission to try and broker a compromise.
The latest row - about Home Secretary Theresa May's attempt to end what she sees as the abuse of Article 8 of the European Convention to make it easier to deport criminals - puts further heat under the issue.
Not to mention all the criticism she is receiving for claiming - wrongly some say - that an illegal immigrant could not be deported he had a pet cat.
But what do party members attending their annual conference in Manchester think of the row? Is it being blown out of proportion - or does it point to a far greater ideological divide at the heart of the coalition?
'Go it alone'
David Glassbrook, an activist from Bolton, said the situation raised questions about whether the present government should continue.
He told the BBC: "I didn't want the coalition when it started and I still don't want it.
"I would have made the case for perhaps going it alone for a while as a minority government, and being nice to everybody while we could.
"The Lib Dems are always saying we are are the party doing nasty things, but they can't really argue that that's the case."
Many Tory MPs are angry about the impact of human rights rulings on issues like giving prisoners the vote and granting sex offenders the right to challenge their place on the sex offenders' register.
Mr Glassbrook said: "I call it the Criminal Rights Act. The average man in the street's not going to be affected by it, but it means foreign criminals can't be taken away. I don't see why we should keep the act as it is."
David Cameron's commission on a British Bill of Rights is due to report later this year.
'Difficult one'
But its findings will go to Mr Clegg and Justice Secretary Ken Clarke, widely regarded as the most Europhile Tory in the cabinet.
This has prompted fears among many Conservatives that the Lib Dems might get their way on the issue.
Hazel Noonan, a Tory councillor from Coventry, thinks the two sides have to come to a sensible arrangement.
She said: "It's always a difficult one. Under the Human Rights Act you will get cases where there's been a waste of time and money.
"But we have to make sure that, whatever the change, we are not leaving vulnerable people open to circumstances of abuse.
"The key point is whether we get it right. It's not a party political issue - it's more important than that."
'Same attitude'
Many Conservatives are particularly unhappy about Article 8 of the European convention, which supports the "right to family life".
They argue that several foreign criminals have used this as an excuse to stay in the UK.
Ali Azeem, from London, believes the Lib Dems and Conservatives have more in common on human rights than they sometimes think, however.
"A British Bill of Rights is certainly something we need," he said.
"We need to do something to get back some of the civil liberties we lost under the last Labour administration. We've done quite a bit already.
"As Conservatives we believe that, as humans, we are born free, and the government should intervene as little as possible. Both the conservatives and the Lib Dems have the same attitude to civil liberties.
"That's the key point we need to focus on. Generally, Nick Clegg has done what he needed to do, and put the country ahead of his party. I think he had to say what he did at his party conference."