Pension talks yield 'no progress'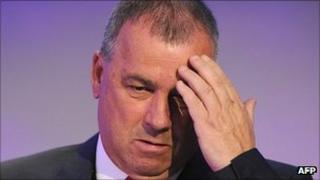 Talks between ministers and union chief Brendan Barber over public sector pension reform have resulted in no progress, sources have told the BBC.
TUC chief Mr Barber met Cabinet Office minister Francis Maude for impromptu private talks at the Conservative conference in Manchester this week.
Unions are balloting members for strike action on 30 November over plans to increase contributions from employees.
The next round of face-to-face talks is due on 24 October in London.
A source close to Mr Barber said he used the impromptu meeting to again urge the government to "give a degree of confidence that they are serious about maintaining sustainable public service pensions in the future".
'Groundhog day'
Unions say the changes are unfair and financially unnecessary. Ministers insist that pension contributions must be increased to make schemes sustainable.
In recent weeks Mr Maude has described the talks as "like Groundhog Day", with no progress being made.
Both sides have previously insisted they are committed to resolving their differences through talks but the BBC understands the latest meeting again yielded little.
Mr Barber also met Chancellor George Osborne at a party during the conference, although it is unclear whether the issue of pensions was discussed.