Liam Fox faces day of reckoning over friend allegations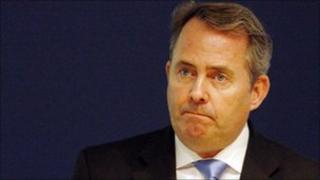 Guilty of poor judgement but not wrongdoing. That was the Defence Secretary's verdict on his own behaviour.
Today he will learn the conclusions of the top official in the Ministry of Defence, the cabinet secretary and the prime minister.
Without fresh information it is unlikely they will be harsher on him than he has been on himself.
Yesterday the defence secretary told David Cameron that he was "kicking himself for his own stupidity" in having a meeting with a defence contractor with no official present.
The meeting in Dubai had been set up by his friend, best man and one time business partner who handed out cards claiming to be one of his advisers.
After long conversations with officials at Number 10 on Sunday Dr Fox conceded that "it was a mistake to allow distinctions to be blurred between my professional responsibilities and my personal loyalties to a friend".
As well as being sorry the defence secretary is angry. He believes that the allegations he is facing originate in a complex American courtroom battle involving the man he met in Dubai - Harvey Boulter, chief executive of Porton Capital - whom he describes as "an utterly incredible witness".
When Liam Fox faces the Commons he will find that Labour are less interested in that and, indeed, his apology and more interested in getting full answers about what precise role his friend played, whether he was ever warned by officials or senior military figures about it and why he has continually changed his story.
Dr Fox seems confident of surviving in his job but he also knows that today is unlikely to be the end of his troubles.