Libya action to cost UK £300m, says Liam Fox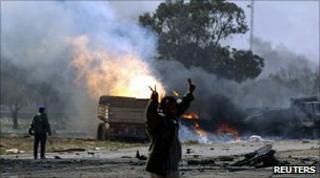 The total cost of UK operations in Libya is likely to be about £300m, Defence Secretary Liam Fox has said.
He said the costs of Operation Ellamy from March 2011 up to December were estimated at £160m.
In a written ministerial statement he said a further £140m was the estimated cost of replacing ammunition used.
The UK is part of the coalition force conducting operations in Libya under a UN mandate authorising military action for the protection of civilians.
The money will come out of the Treasury reserve - not the Ministry of Defence budget.
Former Libyan leader Col Muammar Gaddafi has disappeared and rebel forces have cornered loyalists in Sirte - his birthplace - but are facing stout resistance.
Libya's National Transitional Council, which is now leading the country's affairs, says once Sirte falls, they will declare Libya to be fully liberated.