Commons' concern over sharing dining room with peers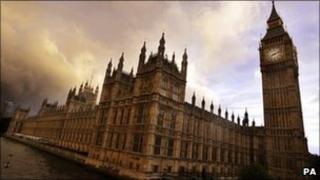 Letting peers use the MPs' dining room for lunch may prove "contentious", the Commons' supervisory body has warned.
The House of Commons Commission was responding to ideas to cut the £5.7m annual loss by its catering operation.
It suggested further talks be held on the matter with the House of Lords to make sure MPs can also use Lords' dining facilities.
It also said it would look into providing more "high street" food - such as pizza, pasta, Thai and sushi.
The Commission was responding to a series of recommendations from the Commons administration committee - aimed at reducing costs and boosting income.
It said it had been able to reach agreement with the committee "on almost all the remaining issues" - including developing an idea to hire out the historic Westminster Hall for private functions "in keeping with the character of the location". It is estimated £100,000 a year could be raised, from just four events.
But it noted that a proposal to allow peers to use the Members' Dining Room at lunch times - and possibly evenings too - might not go down too well with MPs.
"The Commission believes that this may prove to be a contentious matter amongst members, and would wish to understand the reciprocity arrangements before proceeding further. Discussions will be held with the House of Lords about this."
However the Commission agreed that widening access to under-used dining rooms, including to journalists, might help raise more money and should be allowed, providing the Lords did the same.
The Commons Commission says that since a "two-tier" pricing structure was introduced, allowing people to pay £10 for one course rather than a set price of £15, average amounts spent had actually gone up by £3.50 - raising about an extra £15,000 in five months.
It also noted that MPs' were not put off using the dining rooms by the menu or style or serve but "more by the overall ambience" and agreed that a "mystery shopper" scheme, or other form of market research, should be extended.
Other cost cutting plans agreed include closing the members' tea room on Fridays, when Parliament is not sitting and getting MPs to clear their own tables in two cafeterias - with an estimated saving of £81,000 a year.