Mary Portas sorry for 'ugly cabinet' comments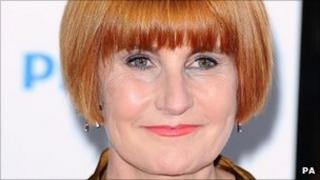 Retail guru Mary Portas has written to the four women in David Cameron's cabinet to apologise for calling them an "ugly bunch" in need of a makeover.
Her comments to Heat magazine were the result of her "naughty" sense of humour, and were not meant to "bash" women, she told the Daily Telegraph.
Ms Portas, the prime minister's retail adviser, admitted she did not even know who the women in the cabinet were.
Tory cabinet member Baroness Warsi said it was wrong to judge women on clothes.
Ms Portas is currently appearing in a TV series, Mary Queen of Frocks, which follows the launch of her own clothes and shoes store.
She is also looking at ways to revive the UK's high streets for David Cameron and is due to present her findings this autumn.
'Lovely face'
"Everything I've been trying to do is to make women of that age group visible and able to wear clothes that reflect where they've come from in life and what they've achieved," she told the Telegraph
"I'm very candid, straightforward and I've got a very naughty sense of humour. But I do not want to be one of those women who are bashing - that's just not my take."
"What I genuinely feel is that they [female politicians] work in a deeply established male place, and I do think a lot of women find it very difficult to know how to come across as professional - and equal in some ways - because it's a phenomenally difficult job.
"When it comes down to it, with women and their intellect, furthering their careers is much more sexy than how they dress."
Asked about Home Secretary Theresa May's look, she said: "She's a good-looking woman. Lovely face."
Writing in the Sun, Baroness Warsi, Tory party chairman, said: "In politics you expect people to scrutinise every aspect of your life. And I don't blame Ms Portas for chipping in. But what gets me is the double standards.
"You would never get the same kind of sniping about men in politics.
"No-one would have dreamt of giving fashion advice to any of the great men who led our country. Just imagine if someone had told Churchill what suits to wear.
"It's ridiculous to judge them [female politicians] on what they do or don't wear. "
The two other female cabinet members are Environment Secretary Caroline Spelman and Welsh Secretary Cheryl Gillan.
A spokesman for Ms Portas told the BBC she sent the letters to the four women on Wednesday to "explain and apologise".