Liam Fox 'working normally despite Adam Werritty furore'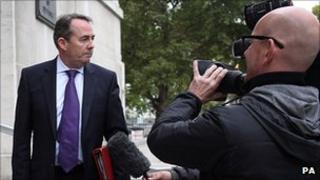 Liam Fox has insisted he is fully focused on his job as defence secretary following fresh claims about the role played by his friend Adam Werritty.
Amid speculation about his future, Mr Fox said he was "back to complete normal working mode" and concentrating on Libya's future and other issues.
Labour have accused David Cameron of indecision and mishandling the issue.
But the prime minister said he wanted to see an official report into Mr Fox's conduct before deciding on his future.
The defence secretary has been under pressure after it emerged that his friend, the lobbyist Mr Werritty, was present on 18 overseas trips and had met the defence secretary at the MoD 22 times since May 2010.
'Full attention'
He also carried business cards describing himself as an adviser to Mr Fox.
The Conservatives said Mr Werritty was not an adviser, while Mr Fox has insisted he will not quit.
After attending a meeting of the National Security Council, the defence secretary said "all his attention" was on the UK's mission in Libya and the outcome of the battle for Sirte, the last remaining pro-Gaddafi stronghold.
"We are back to complete normal working mode," he told reporters.
"I am continuing to do what is needed at the moment which is the defence secretary focuses on defence issues."
The BBC News Channel's chief political correspondent, Norman Smith, says Mr Fox wants to convey a sense of business as usual after a week of allegations about his working relationship with Mr Werritty and suggestions that he and the Ministry of Defence as a whole is being distracted from important duties.
Despite the defence secretary making a statement to MPs on Monday about Mr Werritty's activities, the story has continued to dominate the headlines and Mr Fox cancelled a planned news conference in Paris on Wednesday amid the furore.
But he was in the Commons for a statement on the Middle East on Thursday and is expected to make an announcement later on rehabilitation for injured service personnel.
Ministerial code
A report by Cabinet secretary Sir Gus O'Donnell into Mr Fox's links with his best man and former flatmate will be published within days. Among key questions, it will examine whether Mr Fox broke the ministerial code.
After an interim report into Mr Fox's conduct was released on Monday, No 10 said serious mistakes had been made.
But the prime minister has praised Mr Fox's leadership over Libya and in dealing with the MoD's budget, and has insisted it will be him alone that makes the final decision on whether the defence secretary stays in his job.
During a visit to Aberdeen, Mr Cameron urged people to "be patient" while the Cabinet secretary completed his investigation.
"A strong leader actually recognises you have to take time to get all the information, to answer all the questions and then actually makes a decision," he said. "A weak leader is someone who jumps at it because of some artificial deadline. Let's get the facts established and then we make a decision."
But Labour leader Ed Miliband accused the prime minister of "indecision" and said the matter should be referred to Sir Philip Mawer, the independent adviser on the ministerial code.
"A report should have been commissioned swiftly and then a decision should have been made," he said during a visit to Southend.
"He (the prime minister) is showing ineffective leadership. He should have done what the code says."
Fresh questions
Officials have questioned Mr Werritty about his business affairs and links with Mr Fox, and may do so again.
Labour MP Anas Sarwar has asked the Electoral Commission to investigate BBC reports that an undisclosed wealthy backer of Mr Fox and several others raised funds to pay for Mr Werritty to act as the defence secretary's adviser.
The BBC's political editor Nick Robinson has been told that the individuals concerned paid Mr Werritty an annual retainer because they saw him as someone who, unlike civil servants, could be relied on to argue for Eurosceptic, pro-American and pro-Israeli policies championed by the defence secretary.
They stressed, however, that they did not have specific defence interests.
Our political editor says the problem with this explanation is that having an adviser outside the rules of the civil service - and paid for by undeclared donors - is almost certainly a breach of ministerial rules.
The electoral watchdog said it had not yet received Mr Sarwar's letter requesting it look into the matter.