UK seeks 'consensus' at cyberspace conference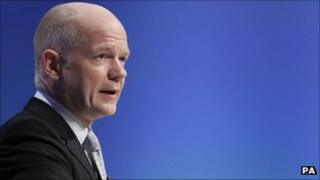 The public have become used to hearing politicians warning about the dangers lurking in cyberspace.
The UK now regards the threat from cyber warfare as seriously as that from international terrorism, while a recent report warned that extremists were increasingly turning to social media to recruit followers and plan attacks.
At the same time, the risk posed by cyber espionage and other state-sponsored covert activities is on the rise.
It was against this background that Foreign Secretary William Hague convened what officials are calling a "unique and ambitious" meeting to discuss both the opportunities and challenges in the sphere.
Next month's grandly titled London Conference on Cyberspace will bring together political leaders, such as US Secretary of State Hilary Clinton and EU digital supremo Neelie Kroes, leading cyber security experts and tech entrepreneurs such as Wikipedia founder Jimmy Wales and Cisco vice-president Brad Boston.
Representatives from China and Russia have also been invited.
Ahead of the summit, Mr Hague said the internet was revolutionising people's lives but required a "global co-ordinated response" to ensure its transformative power was fully exploited and channelled in the right direction.
Efforts to create a common policy on cyber development have been "fragmented" and "lacking in focus", he admits, and all the "major actors in cyberspace" - not merely governments - need to be involved in forging an agreed approach.
Foreign Office officials say the meeting will focus on driving the economic and social potential of the internet, with the aim of building "a collective understanding of how to protect and preserve the opportunities that cyber space offers".
'Digital divide'
Issues on the agenda will include how to bridge the "digital divide" between the developed and developing world.
Although some progress has been made in narrowing the gulf between connected and unconnected in recent years, two thirds of the world's population still does not have access to the internet with some African countries in particular having very low numbers online.
The role played by social media in the Arab Spring uprisings and concerns over censorship of the internet means that issues around freedom of speech, and the internet as a political battleground, will also be debated at the summit.
Those attending will also be looking at how the internet should be policed and who should pay for enhanced efforts to tackle the estimated $1 trillion annual cost of cyber crime to consumers and economies.
While not wanting the summit to be dominated by the spectre of cyber warfare, ministers insist that it cannot be ignored - pointing out that it is an obstacle to economic innovation and creativity as well as a threat to national security.
Experts have questioned what cyber warfare actually entails and called for a common definition. A recent report by the Organisation of Economic Co-operation and Development claimed that most attacks cited by governments did not justify the description.
Fighting back
Mr Hague said 20,000 malicious e-mails were now being sent every month to government departments and the UK was not simply content with repelling cyber attacks on its national infrastructure but would be pro-active in fighting back.
"We will defend ourselves in every way we can, not only to deflect but to prevent attacks that we now are taking place," he told the Sun.
"The threat is rising exponentially from states and from criminal networks in what they do in cyberspace.
"This has to be addressed. What is unacceptable in the physical world is also unacceptable in cyberspace."
The government have pledged to spend an extra £650m over the next four years on increasing the UK's resilience against cyber attacks although Labour have said the strategy contains little new.
The UK's tech sector has welcomed the government "taking the lead" on the issue and said the summit could prove an opportunity for them to share their expertise in cyber security with other countries.
"Cyber space offers both great opportunities and great challenges for social change and economic growth," said Gordon Morrison, director of defence and security at Intellect, a trade body which represents 800 British firms.
"But we need to ensure that we are able to both harness it and minimise the potential threats."
International conferences of the kind planned next month are always at risk of being seen as talking shops and officials are keen to play down expectations, acknowledging that achieving a consensus on the way forward "will not be easy".
"We are not looking for binding international agreements, but we are looking for the start of a dialogue around these important questions," the Foreign Office said.