Letwin 'cleared' of dumping sensitive documents in bins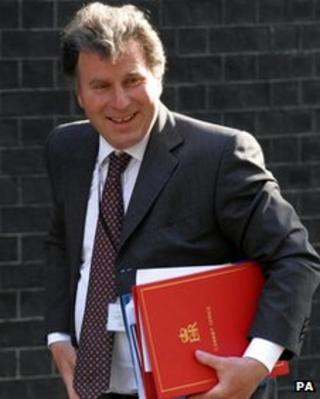 The cabinet secretary has said he is satisfied that Oliver Letwin did not dispose of any classified government documents in a park in central London.
The Cabinet Office minister was pictured putting correspondence, including parliamentary papers and constituents' letters, in litter bins.
West Dorset MP Mr Letwin apologised for his "embarrassing" actions.
The Information Commissioner's Office has said it will look into whether data protection laws were breached.
The Mirror newspaper photographed Mr Letwin, who is responsible for developing policy across government, discarding papers in bins in St James's Park, which is close to Downing Street and the Cabinet Office.
The newspaper said the documents had been thrown away over the previous six weeks and included correspondence between two senior Tory MPs about whether Parliament had adequately investigated claims the UK knew about the extraordinary rendition of terrorist suspects.
'Personal assurances'
Other material Mr Letwin is said have been disposed of referred to al-Qaeda's activities in Pakistan, the future of the forensic science service and concerns over compensation for the near collapse of Equitable Life.
Labour MPs immediately called for an investigation into whether Mr Letwin's behaviour may have compromised national security.
But the Cabinet Office said Sir Gus O'Donnell, the head of the civil service, had spoken to Mr Letwin about the claims and he had been given a "personal assurance" that this was not the case.
"The cabinet secretary has looked into this and is content that no classified government documents were disposed of in this way," a spokeswoman for the department said.
The Office of the Information Commissioner has said it intends to speak to Mr Letwin and the Mirror newspaper to find out more about the episode, stressing it regards breaches of data protection "very seriously".
Mr Letwin said he had been used to dealing with correspondence in St James's Park early in the morning before going to his office but maintained no sensitive documents had been involved. He has apologised to constituents who felt offended by his actions.
No 10 has said Mr Letwin's actions were "not sensible" and he would not be repeating them.