Gaddafi death a signal to dictators, says Nick Clegg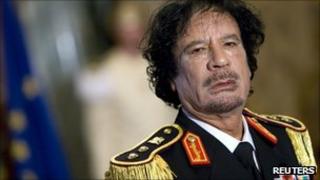 The death of Muammar Gaddafi sends a "huge signal" to others in the region that the sins of "grotesque dictators" eventually catch up with them, Deputy Prime Minister Nick Clegg has said.
He said events in Libya would allow the whole region to move towards "greater democracy and greater freedom".
In the coming hours, Nato is due to declare an end to the Libya campaign.
Up to 1,000 members of the UK's armed forces, mainly pilots, are currently deployed in the campaign.
Mr Clegg said he had been a leading advocate of the Libyan campaign because the UK could not stand "idly by while Gaddafi massacred innocent citizens in Benghazi as he was threatening to do".
"It would have sent a terrible signal that Britain and the rest of the world included did not care what happened in countries like Libya," he said.
'Pack suitcases'
Credit lay with the Libyan people, he said, and they would continue to have the UK's support in the transition to a new government.
The National Transitional Council (NTC) is expected to formally announce the liberation of the country this weekend in the eastern town of Benghazi.
Mr Clegg also said he was sure the relationship between Libya and Britain would enter a "new and strong" phase.
Earlier, the new defence secretary Philip Hammond said he expected British sales directors to "pack their suitcases" and head to Libya to take part in the reconstruction as soon as possible.
Mr Hammond said he was proud of the contribution of Britain's armed forces and hoped there would now be a "stable Libya" on Europe's southern border.
He said thousands of people in Britain had suffered because of the Gaddafi regime.
"To all of those people a cloud has now been lifted. Gaddafi has gone and he can no longer export terror to the rest of the world," he told BBC Radio 4's Today programme.
His remarks come as the UN announced it was seeking a full investigation into the way Col Gaddafi was killed.
It is unclear whether he was deliberately shot, or hit in crossfire.
'Turbulence'
Asked whether the UK backed such an investigation, Prime Minister David Cameron's official spokesman said: "The account of precisely what happened is a matter for the NTC."
He added: "The UN expressed a view by saying that these people should be prosecuted, and Philip Hammond was saying this morning that we would have preferred to see Gaddafi brought to trial and forced to answer for what he had done. That was the internationally agreed position."
Shadow defence minister Kevan Jones said it was important to find out how Col Gaddafi died, but today should be recognised as a "great achievement" for the Libyan people in freeing themselves from 42 years of tyranny.
Sir John Jenkins, the new British ambassador to Tripoli, said he was optimistic for the future of Libya.
"It will not be straightforward, there will certainly be turbulence over the next period," he told BBC Radio 4's The World At One.
"But I'm pretty optimistic that they are going to make something positive out of all of this."
He said the fierceness of the fighting would have hardened some attitudes, but one of the distinguishing features not just of Libya but the Middle East was that you could reconcile.