Hague welcomes Libyan liberation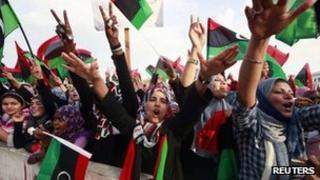 The declaration of national liberation by Libya's transitional government is a "historic victory", William Hague says.
The National Transitional Council (NTC) on Sunday announced Libya's liberation from Muammar Gaddafi's 42-year regime.
The foreign secretary said Nato would continue to protect civilians from pro-Gaddafi fighters "for as long as is necessary" and urged against reprisals.
Defence Secretary Philip Hammond said earlier that the killing of Col Gaddafi had "stained" the NTC's reputation.
On Wednesday, NTC fighters said the former Libyan leader had been found and captured alive in his hometown of Sirte but died in crossfire.
In an interview with BBC One's Andrew Marr Show, Mr Hammond said: "We would have liked to see Col Gaddafi going on trial to answer for his misdeeds."
But in a later statement, Mr Hammond welcomed the NTC's declaration of liberation saying: "The Libyan people have liberated their country from a ruthless tyrant. This has been their revolution and they can be rightly proud of their achievements."
Mr Hammond said Nato's action in Libya had "averted a humanitarian disaster" and troops would remain until civilians were no longer threatened or no longer wanted the alliance's support.
Nato launched an air operation in Libya in March after protests against Col Gaddafi's regime were violently repressed, leaving thousands of people dead or injured and sparking a full-scale civil war.
'A decisive moment'
Col Gaddafi's government was driven out of the capital, Tripoli, in August. But the dictator refused to surrender or leave the country, urging his followers to resist the country's new leaders.
Mr Hague said the fall of Col Gaddafi's hometown of Sirte, his death and the declaration of liberation represented "a historic victory for the people of Libya and a decisive moment in their struggle for freedom".
He said Britain welcomed the NTC's pledge to form an inclusive transitional government before democratic elections.
"The Libyan people now have the chance to work together in a new political process, leading to a pluralistic and open society under the rule of law. That opportunity is within their grasp and we urge them to seize it, avoiding retribution and reprisals and ensuring that national reconciliation and reconstruction go hand in hand," he said.
"Nato will continue to enforce UNSCR 1973 for as long as is necessary to protect civilians against the threat of violence from remaining pro-Gaddafi forces."
Development Secretary Andrew Mitchell said the UK was ready to provide further humanitarian support to Libya.
"Now that liberation has been declared, we will continue to work with the NTC as they lead the process of post-conflict transition, supported by the UN. It is essential that we support Libyan owned and led solutions - this is a Libyan victory."