Ombudsman: Whitehall 'haphazard' on complaints handling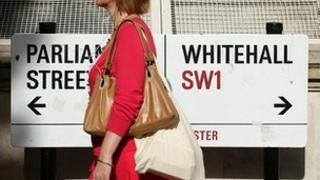 The way government departments and public bodies handle complaints is "inconsistent, haphazard and unaccountable", a report has claimed.
The parliamentary ombudsman Ann Abraham said the process was costly and often left members of the public "frustrated and confused" with the results.
Of the 7,360 complaints received last year, 125 were formally investigated. Nearly 80% of these were upheld.
The issue of tax credits generated the most complaints.
In her first annual assessment of government performance, Ms Abraham said the variety and complexity of different systems in place across Whitehall for dealing with complaints needed to be addressed.
Better mechanisms
People had to go through up to four different stages before having to turn to the ombudsman, she said, while the cost to the taxpayer of remedying complaints totalled £360,000 last year.
"It is clear that government needs to have in place better and more extensive mechanisms for sharing learning from complaints so that the same mistakes are not made again and again," she said.
"Government needs to examine how ingrained in the civil service psyche is a closed, reactive, defensive response to complaints and how that can be changed into an open, proactive response that encourages real and sustained learning."
The most common cause for complaint was people seeking financial remedies for alleged mistakes.
The Department for Work and Pensions received the most complaints - 2,462 - of any government department or public body in 2010-11.
Revenue and Customs and Jobcentre Plus received 1,219 and 1,036 respectively.
Of 7,360 complaints made, the ombudsman redirected 5,590 to the body concerned as they had not had a chance to respond.
In 1,078 cases, it was deemed there was no case to answer or the issue had already been rectified. While 127 complaints were resolved without a formal investigation, 125 were officially looked into. Of these, 78% of those concluded this year were fully or partially upheld.