Clampdown needed on metal theft, warns Labour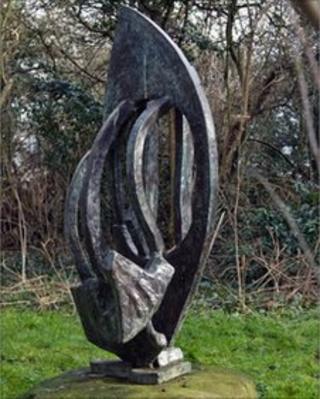 Laws governing the scrap metal industry need updating if there is to be a crackdown on metal theft, shadow Home Secretary Yvette Cooper has warned.
She said it was too easy for people to get away with it and too hard for the police to tackle it.
Currently, scrap metal dealers must register with the local authority, but if they do not, police have no powers.
The Home Office says it is working with the police and businesses to see whether the law needs changing.
'Miracle'
Soaring prices for metals like copper has meant that railway lines, phone lines, even war memorials and statues, have been targeted by metal thieves in recent years, causing disruption and sometimes putting lives at risk.
Luke Beeson, of BT, said cable theft led to a coastguard station losing all communications.
Labour's Ms Cooper told BBC Radio 4's PM programme she realised the severity of the problem when six houses in her constituency blew up following a gas leak caused by a cable theft.
"It's a miracle no-one was killed," she said.
"It's too easy for people to get away with this and too hard for the police to be able to crack down what is clearly organised crime on a very serious scale."
'Steptoe and Son era'
She is calling for tougher licensing and a requirement that any trader proves their identity.
The British Transport Police said the Scrap Metal Dealers Act 1964 was "literally from the Steptoe and Son era" and needed to be brought in line with the modern world.
Deputy Chief Constable Paul Crowther said the lack of power to deal with unregistered scrap metal dealers was a "bizarre situation".
"The very people we're interested in, we have no powers to enter their premises without a warrant," he added.
Within the industry, there may be some resistance to a law change.
Miles Pilkington, of Sims Metal Management, which runs reputable recycling yards which operate more safeguards on their trade than the law demands, said he would prefer to see the existing law better enforced, rather than face extra burdens of regulation.
The government said it wanted to stop metal thieves "making money out of other people's misery" and was looking at whether to change the law.
In a statement, the Home Office said it recognised that metal theft was a serious problem, and it was working with the police and businesses to see if the law needed changing.
Last month, Tory former cabinet minister Lord Jenkin called for police to be given more powers to shut down traders selling stolen scrap metal.
He was responding to Labour peer Lord Faulkner who said metal theft crimes had cost the UK £770m last year.