Appoint fewer minsters, MPs' committee urges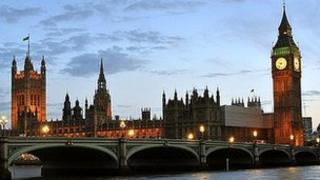 The government has come under fire from a Commons committee for not appointing fewer ministers and aides.
The public administration committee says its call to reduce the ministerial ranks from 121 to 80 has been ignored.
It complains that ministers' aides are leaned on for votes - in exchange for promotion - rather than used to bring backbench influence to policy.
The government says ministerial numbers are under review. The Cabinet Office said it would respond in due course.
However, committee chairman Bernard Jenkin said: "That is political code for their refusal to engage with the committee on this recommendation.
"The number of ministers in the Commons is at its absolute limit."
In a report published on Monday, the committee said it was "disappointed" by the government's attitude, which it said contradicted a policy of devolving power away from Whitehall.
'Exercising patronage'
The committee said the government employed more parliamentary private secretaries (PPS) - or ministerial aides - than it needed and that they performed "few functions of real value".
They are expected to support the government during votes, or lose their job and damage their prospects for a ministerial career.
Mr Jenkin, a key figure during the recent rebellion by Tory backbenchers over a referendum on EU membership, said the employment of aides was "more about exercising patronage over MPs, and thus being able to influence debates and votes, than it is about efficiency and accountability."
This system made it more difficult for MPs to examine government policy in an objective way, he added.
'Not realistic'
A Cabinet Office spokeswoman said: "The government thanks the committee for their further consideration and will respond in due course."
In its response to the committee's original calls in March, the government said it had reduced ministerial salaries by 5%.
While ministerial numbers were being kept under review, cutting them to 80 was "unlikely to be a realistic aspiration", it said.
It said those MPs appointed as PPS were not paid and had limited responsibility.
However, it said they performed "an important role" in bringing backbenchers' perspectives to bear on policy and contributing to the smooth running of the House.