Self defence law change to have 'little or no impact'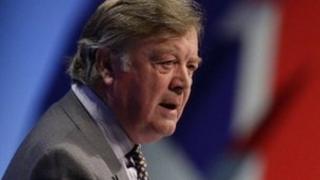 Changes to the law on self defence are likely to have little or no impact on the justice system, according to the government's own assessment.
Last week, the Ministry of Justice said they would "strengthen people's rights to use force to defend themselves from intruders in their own homes".
But the MoJ's impact assessment says the move "seeks to clarify the law rather than making material changes".
Justice Secretary Ken Clarke has also previously called it a "clarification".
The coalition agreement pledged to ensure people had the protection that they needed when they defended themselves against intruders.
The MoJ said last week its plans would mean people would not be obliged to retreat when defending themselves.
'Negligible impact'
Headlines in national papers covering the story included, "Householders are given greater rights to fight back against burglars" and "Now you can fight back against burglars".
But the MoJ's impact assessment says: "There is likely to be no or negligible impact on the CJS [criminal justice system] as this provision seeks to clarify the law rather than making material changes."
It explains the law will be clarified by importing existing common law principles into statute law.
The impact assessment also notes plans to replace indeterminate prison sentences with a new system including a "two strikes" rule for very serious offenders will, in the long term, see fewer prisoners in jail.
Speaking in the House of Commons on Monday, Mr Clarke said: "It is actually an attempt once more to build up public confidence in the perfectly reasonable right that people have to use legitimate force when defending themselves and their property."
But Plaid Cymru leader Elfyn Llwyd said: "What I can't understand is if it's not going to make a great deal of change to the substantive law - just going to elaborate or clarify it - why do we need to legislate?"
Last week, the justice secretary unveiled the two strikes policy - meaning mandatory life sentences for anyone convicted of a second serious sexual or violent offence - and "extended determinate sentences" in which offenders would serve at least two-thirds of their term in custody.
The MoJ's Assessment says this will make no savings and have no impact on prison places before March 2019, but will slow the growth in demand for prison places by approximately 2,500 in the longer term.