UK 'will keep pressure on Iran' - Nick Clegg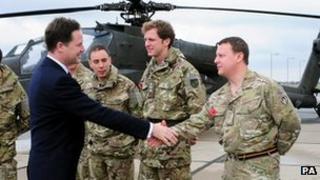 The UK will work to "exert constant, increasing pressure" on Iran over its nuclear programme, Deputy Prime Minister Nick Clegg has said.
He spoke amid growing concern about Iran's nuclear weapons capability.
Mr Clegg said a regime with nuclear weapons - and "flouting" international law - would be "a very, very bad thing for peace and security in our world".
He said Britain would not "take any options off the table", but would continue to seek a negotiated solution.
Next week, the International Atomic Energy Agency will publish a report on Iran's nuclear activities.
It is expected to contain fresh evidence of weapons experiments - although Tehran continues to insist its nuclear programme is peaceful and aimed at producing energy and for medical purposes.
'Deaf and blind'
US President Barack Obama told reporters at the G20 summit in Cannes he had discussed the situation in Iran with French President Nicolas Sarkozy.
He said they had agreed on "the need to maintain the unprecedented pressure on Iran to meet its obligations".
During a visit to RAF personnel in Lincoln, the deputy PM said there was a "real threat of a nuclear armed Iranian regime which has proven to be completely deaf and blind to what the rest of the international community wants".
He said: "Iran with nuclear weapons, flouting the international community, flouting countless United Nations resolutions, flouting a near universal consensus in the international community, would be a very, very bad thing for peace and security in our world.
"So we must work tirelessly with our partners in Europe, the United States and elsewhere to continue to do what we have done for a long time now, which is to apply pressure on the one hand, and also reach out through engagement with the other.
"That continues to be our strategy. We want a negotiated settlement, but clearly we take no options off the table."
Mr Clegg said that if the Iranian regime could prove it was only engaged in a civil nuclear programme then the UK would co-operate with it.
In a statement, Downing Street restated its commitment to "a dual-track strategy of pressure and engagement" and said it was not advocating military action.
There have been reports that Israeli Prime Minister Benjamin Netanyahu is pushing his cabinet to back a military strike on Iran's over the suspected weapons programme.
Iran's military chief, General Hassan Firouzabadi, said his country would "punish" any Israeli strike against it.