Liam Fox and Adam Werritty may be called as witnesses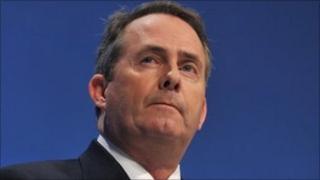 The former Defence Secretary Liam Fox and his friend and unofficial adviser Adam Werritty may be called to give evidence in an ongoing court battle.
Porton chief executive Harvey Boulter, in dispute with US technology group 3M, told Sky News he planned to call them both to "debunk baseless allegations".
It comes as the High Court ruled 3M was in breach of an obligation to "actively market" a device used to detect MRSA.
A judge awarded Porton Capital about $1.2m (£750,000) in damages.
Mr Justice Hamblen said 3M should have marketed the device called BacLite in Europe, the US, Canada and Australia, under a share purchase agreement.
He said investors, who sold the makers of BacLite to 3M for £10m four years ago, were entitled to damages.
During the five-month hearing, the judge heard that Porton Capital, a group of private investors, and Ploughshare Innovations, a Ministry of Defence subsidiary, had sued 3M for "breaches of contract".
The judge heard that Acolyte, creators of BacLite, was established more than a decade ago as a joint venture between the government and a venture capital fund.
The firm was formed in order to "exploit" technology developed by the Ministry of Defence at Porton Down, in Wiltshire.
The dispute came to public attention after it emerged it was discussed by Mr Boulter and Mr Fox at a meeting in June in Dubai, arranged by Mr Werritty.
Mr Boulter said he had believed Mr Werritty to be a government official and had openly spoken to him about details of the dispute with 3M.
That discussion later became the subject of a blackmail case in the US, during which it became known no Ministry of Defence officials had been present.
Mr Fox eventually resigned from his cabinet post in October, later admitting to being "careless" over the meeting.
His mistake concerning Mr Werritty, he said, was to "effectively allow someone to function as an independent adviser and that is not allowed under the Ministerial Code".
Now the London hearing is over, 3M is to press ahead with claims against Mr Boulter in a case taking place in the US.