Police 'not ready for new counter-terror powers'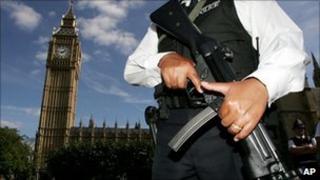 Counter-terrorism police are not ready for the introduction of new laws to replace controversial control orders on suspects, the BBC understands.
The bill which would create Terrorism Prevention and Investigation Measures (TPims) is due to pass its final hurdle in Parliament on Wednesday.
But some senior officers have told the BBC they still feel they are not fully prepared and a delay is necessary.
The Home Office said "extensive preparations" were ongoing for TPims.
TPims are due to come into effect early in 2012.
Eleven people are currently subject to control orders. Their movements and their access to communications are severely restricted because they are deemed to be a threat to national security.
But the law is changing following a commitment in the coalition agreement to "urgently review control orders".
End of relocation
The Liberal Democrats pushed for changes to some of the most restrictive conditions, which they viewed as an intolerable breach of civil liberties.
One of the biggest changes will be the end of relocation, which gives the authorities the power to force suspects to move away from their homes and close associates. This applies to most of the current orders.
The police and MI5 have been given more money to pay for extra surveillance under the new system, and about 100 new agents could be recruited.
But the BBC understands that some senior officers at Scotland Yard who deal with counter-terrorism feel the police are not ready for a January start.
They want a delay of several months.
So far the government has been asked to extend the transition period by just two weeks.
This echoes concerns expressed in June by then Deputy Assistant Commissioner Stuart Osborne, who told Parliament that the Metropolitan Police needed "more than a year" to get the resources and people in place.
A Home Office spokesman told the BBC that "extensive preparations" were being made for transition to the new TPim regime.
For Labour, shadow home secretary Yvette Cooper said it was clear that the security services and police were concerned about the operation of TPims and the possible impact on UK security.
"It is irresponsible of the home secretary to ignore serious security concerns, especially in Olympic year, for the sake of her political timetable.
"We have tabled amendments to the TPims Bill today delaying its introduction until after the Olympics and Paralympics, which will represent a massive security effort by all concerned and when resources will be stretched enough."