Bring back UK-only passport lanes at airports, urge MPs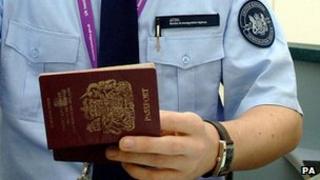 UK citizens should have their own passport controls at domestic airports and ports, a group of MPs says.
UK passport holders returning home have been left "frustrated and angry" by long delays at border controls and action is needed, they argue.
Conservative Douglas Carswell, among those backing the move, said a UK-only passport lane was a "sensible" step and other countries had something similar.
Efforts to cut queues at airports were at the heart of a recent political row.
Home Secretary Theresa May allowed some checks on European travellers to be relaxed as part of a pilot scheme over the summer.
But the head of the UK Border Force, Brodie Clark, was suspended after he was accused of going further in scaling back other checks without ministerial approval, claims he denies.
Mr Clark said he was merely following existing guidance, allowing officials to relax some checks on the grounds of health and safety at exceptionally busy times when arrivals queues become so long as to present a danger.
At the moment, British nationals returning to the UK use the same queue at passport control as other EU nationals as well as citizens of Switzerland, Norway, Iceland and Liechtenstein.
Labour MP Kate Hoey has tabled an early day motion calling on ministers to "reintroduce" dedicated lanes for UK passport holders at British ports of entry - which its supporters say were in place as recently as the 1980s.
It urges MPs to "recognise the frustration and anger of many British citizens in having to wait in long queues at entry points on re-entering the country" and applauds Mrs May's "desire to lessen waiting times".
Early day motions are designed to draw attention to an issue and show the level of support among parliamentarians and do not necessarily end up being debated in Parliament.
'Common sense'
Mr Carswell said the move would be "straightforward" and be a "common sense" solution to the current problems.
"It would be perfectly sensible and possible to have a separate queue for people with British passports. You would not be doing anything odd in the eyes of many other countries."
"You can't help noticing when you go to foreign countries outside the European Union, when you are someone returning home to your country you go through your own passport lane."
Such a system was already in place in countries like the US, India and Australia, he suggested.
"It does speed things up but it is also the principle. Why should we wait in queues for a country called Europe?"
Review needed
Mr Carswell is one of a number of Tory MPs who believe the UK would be better off outside the European Union while Ms Hoey is one of Labour's leading eurosceptics.
The motion has also attracted support from Conservatives Zac Goldsmith and Anne Main as well as Democratic Unionist MPs Jim Shannon and Ian Paisley.
Having a specific passport lane for UK citizens, Mr Carswell suggested, would reflect the fact they were subject to a "different degree of scrutiny" than foreign nationals.
It would also enable the authorities to "focus resources where they are needed" regarding immigration and security checks.
A "fundamental review" of immigration controls was needed, the MP added, as successive governments had made a "dog's breakfast" of the issue.