Labour: Cuts are 'biggest attack' on women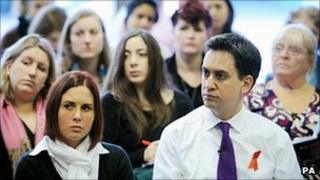 Cuts unveiled by the chancellor this week amount to the "biggest attack on women in a generation", says Labour.
It commissioned research from the Commons Library which it says shows 73% of money raised from tax credits and pay changes will come from women.
Some elements of tax credits will not be uprated with inflation and public sector pay rises will be capped at 1%.
The Treasury says the "distorted" figures ignored money to increase Child Tax Credit and free childcare.
In his Autumn Statement this week, Chancellor George Osborne outlined measures aimed at boosting the UK's flagging economy as well as cuts to finance them and help tackle the budget deficit.
Low earners
Most working age and disability benefits were uprated in line with September's CPI inflation figure of 5.2%. The child element of Child Tax Credit will also be uprated by 5.2% in 2012-3, but a planned £110 above-inflation increase planned for the same year will not go ahead.
Although the disability elements of tax credits will also be uprated by 5.2%, the couple and lone parent elements of Working Tax Credit - which supports low earners - will not get an inflation increase.
And Mr Osborne announced that public sector workers, who are already subject to a two-year pay freeze, face a cap of 1% on pay rises for two years after it ends.
Labour says the combined money raised from tax credits and pay changes amounts to £2.37bn. It published figures from the Commons Library estimating that 73% - £1.73bn - would be paid by women and only 27% - £638m - by men.
Addressing an all-female audience in east London on Thursday, Leader Ed Miliband said it was the biggest attack on women in a generation.
Childcare places
And shadow home secretary Yvette Cooper, who is also shadow women's minister - said women with children would "lose most of all".
"The House of Commons Library research shows clearly that once again the chancellor's plans hit women more than twice as hard as men," she said.
"Time and again, this government is making women take the greatest strain, even though they still earn less and own less than men.
"If you look at all the changes to direct tax, benefits, pay and pensions announced by the chancellor since the general election, of the £18.9bn that the government is raising each year, £13.2bn is coming from women and £5.7bn from men. Women are being hit twice as hard."
But the government said the figures did not show the whole picture and "deliberately ignored" measures that would "disproportionately benefit women" - including nearly doubling the number of disadvantaged two-year-olds who are entitled to 15 hours of free education and care.
It said 63% of pensioners were women, who would benefit from a record increase in the state pension of £5.30-a-week from April 2012, 56% of those taken out of paying income tax by a further rise in the threshold are women and said protections for the lowest paid public sector workers from the pay freeze also benefited more women.
A spokesman said: "These figures are a completely distorted view of what the government is doing to support women.
"They totally ignore the £650m the government committed this week to doubling free childcare for two year olds, which will help women back into work, along with an increase in the Child Tax Credit of up to £135 per child."
Earlier, Prime Minister David Cameron was pressed on how mothers were being helped into jobs that fit with family life.
He told ITV that three and four-year-olds were now eligible for 15 hours of free nursery education: "That will help young mums get into work, and getting into work is the best way to get out of poverty."