Councils warned to expect further job losses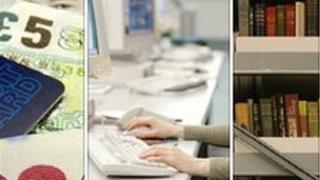 More council job losses are inevitable as efforts to cut Britain's deficit go on, say the Audit Commission and Local Government Association.
England's 353 councils have already cut 145,000 staff in the last year but the joint report says more cuts are coming.
GMB union chief Brian Strutton said the government was punishing the vulnerable for problems they did not cause.
But minister Grant Shapps said economising and sensible planning could make change easier to deal with.
With a workforce of 1.6m people, local government is England's biggest employer.
In the period between 2004-05/2009-10, the overall pay bill rose by 22%, but it has since fallen by 5.6% in real terms, and the two organisations' report said a further fall was inevitable.
The report says councils must "strike a balance" between redundancies and restructuring to reduce costs, pointing to examples such as sharing backroom staff or removing layers of management.
"Each council must find its own way of cutting costs tailored to local needs, local circumstances and its own workforce," said Audit Commission chairman Michael O'Higgins.
"Councils are often the largest employer in their area, so downsizing can affect the local economy."
Sir Merrick Cockell, LGA chairman, said: "Councils have been ahead of the game in making savings and have already started to reduce workforce costs. Unfortunately, job losses are inevitable given the scale of cuts.
"Where these are necessary, councils are working hard to minimise disruption to staff and services through restructuring, shared services and outsourcing."
The GMB's Brian Strutton said job losses, pay freezes and attacks on their pension made for "an unprecedented triple whammy" for council staff and he called on the government to ease budget cuts, rather than imposing more.
Local Government minister Mr Shapps said everyone in the public sector had to pull their weight to make up for "Labour's reckless spending spree".
"Despite this, councils received a fair and progressive funding settlement that protects front-line services and shields the most vulnerable," he said.
"The majority have been planning sensibly for smaller budgets.
"We've been clear that front-line staff and services should be protected and, as this report makes clear, the best councils are finding ways to do this by sharing back office staff, closing vacant posts, allowing natural waste, reviewing bonus schemes and not renewing agency staff."