Watch out for Christmas fakes, minister warns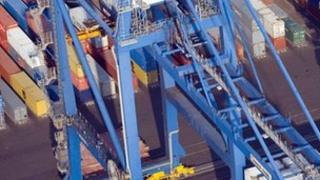 Shoppers hunting for Christmas bargains have been warned to be on the lookout for counterfeit goods.
Fake iPads and Thomas the Tank Engine toys are among thousands of items seized by border authorities in the past few months.
Home Office Minister Damian Green said fakes cost British firms billions of pounds each year and admitted those behind them were very hard to catch.
"If it seems too good to be true - it probably is," he said.
"It's a business that costs Britain £1.3bn a year and it's really serious at this time of the year when people are doing lots of shopping, especially online shopping.
"We've seized fake iPads, fake iPods, we've seized fake UGG boots, but also basic goods like razor blades.
"So across the board someone somewhere is trying to con you by trying to sell you some counterfeit goods."
As well as attempting to evade duty and VAT, unscrupulous importers also put consumers at risk from potentially dangerous, unregulated products.
The Trading Standards Institute's chief executive Ron Gainsford says the external appearance and packaging of electrical goods such as chargers and hair straighteners may be copied fairly well, but the internal composition and materials are likely to be substandard and could make the item very dangerous.
"Check, double check and check again to make sure what you are buying and where you are buying from is the real deal," he says.